Jun 14, 2023 / Village Voice
Posted by: Kristian Partington
The conversation around Diversity, Equity and Inclusion is ongoing at Schlegel Villages as the organization and everyone connected to it seeks progress in a complex society. As Villages officially mark Pride Day on June 14, while simultaneously celebrating the vast and varied passions and wisdom of residents throughout Seniors Month, a compelling keynote address from this spring's Schlegel Villages Leadership Retreat strikes an important chord.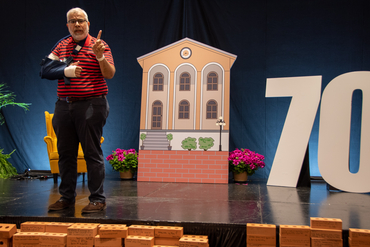 At that event, Nouman Ashraf, Assistant Professor in Organizational Behavior at the University of Toronto and the Director of Equity, Diversity and Inclusion at the Rotman School of Management, challenged approximately 350 leaders to reflect on their own biases as they rediscover their personal commitment to this important cause.
He suggested it's one thing to believe in the idea of inclusion and equity within our diverse communities, but quite another for leaders to do the hard work it takes to make progress. 'Moving from well-intended believers to gritty builders,' was the context of his keynote address.  
"Encouraging inclusivity is just one piece of it," says Augustin James as he reflects on the themes Dr. Ashraf presented. "Sometimes we can be hard on ourselves and we can be equally hard on others because of our intolerances and whatever biases we're working with.
"It's good to do a self reflection," Augustin adds, "to know where my shortcomings are and ask 'How do I treat others? How do I treat myself?' "
Augustin, the Director of Clinical Services with Schlegel Villages, facilitated a follow-up concurrent session at the retreat following Dr. Ashraf's presentation, alongside Winston Park General Manager Brad Lawrence. In their session, they raised the question of how to put the principles of Diversity, Equity and Inclusion into practice.
"A lot of it came down on acknowledging people," Augustin suggested, "being human and allowing everybody else to be human also."
"We need to slow down and connect with people and see what's happening, and that's where you build deeper connections."
In doing so, one can see the full nature of the person they are connecting with, which is a critical aspect of fostering a culture of inclusion and striving to continually meet the Schlegel Villages aspiration to "Honour Diversity in Village Life."
It's a never-ending quest, and the conversation must be ongoing. "I don't care what's on your walls, I care about what's happening in your halls," Dr. Ashraf pointed out. People may believe and have good intentions, but what are the actions the people are taking together to be progressive?
As we reflect on the true meaning of inclusion, recognizing that true belonging is to feel like you can dance like nobody's watching and be your true authentic self, as Dr. Ashraf suggested, we see more hopeful communities. This month we celebrate Pride and we honour the wisdom of our older generations, who hail from all over the world, and we continue to create communities that honour everyone as a unique individual.