Jul 24, 2023 / Village Voice
Posted by: Kristian Partington
On a sunny Sunday evening in early July, Yankee Lady Yacht Charters welcomed Schlegel Villages aboard one its luxury cruise ships for the organization's 3rd Boat for Hope Fundraising event in support of the Wilfred Schlegel Hope Fund.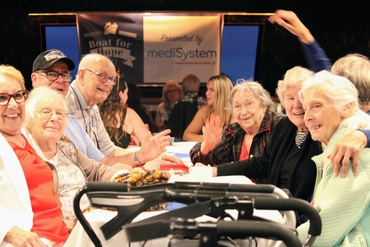 A mix of team members, residents, families and friends sailed the Toronto Harbourfront, admiring the colours of the sunset that became the backdrop of the city skyline. With the support of several generous sponsors, this years' event raised more than $35,000 for the fund, which is used to support team members facing financial hardship.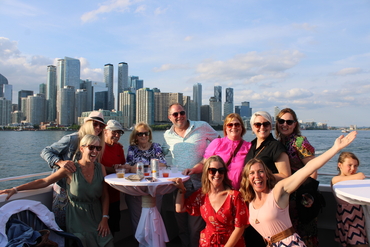 Across Schlegel Villages, team members contribute to the Hope Fund and the Schlegel Family matches donations up to $50,000 a year; any team member is able to apply for support, regardless of whether or not they contribute.
We'd like to thank Mark McFadden for sharing his family's story with us below. It is a heartbreaking reminder of the struggles so many are faced with in life, and a testament to the reprieve a bit of community support can offer in the darkest of times. 
Mark McFadden and his wife Grace met while working together at a restaurant in Vancouver in the mid-90s. As love grew and they realized the future ahead was meant to be traversed together, they moved back to the GTA to start a family. She being from Mississauga and he from Hamilton, it made sense to be closer to their families as they began theirs.
They stuck with the restaurant business when they arrived home, opening a popular restaurant that they ran together, English Bay Fish and Chips, which would eventually have two locations in Oakville and Mississauga. For 17 years they served the area, but after Grace was diagnosed with cancer in 2015, it soon became unfeasible for Mark to carry the weight of business on his own.
Between chemotherapy treatments and the demands of a young family, life was difficult to say the least, so they sold the business and in 2019, Mark joined the team at The Village of Erin Meadows as a chef in the retirement neighbourhoods.
It's never an easy time to struggle with cancer and there were times they felt lonely. Friends and family members their age were all busy with their own families and the trials of life, while their aging parents faced some of their own health challenges.
"We were kind of stuck in the middle, a bit."
For eight years they faced the ups and downs of cancer treatment
"She would get a little bit sicker and then she would get better and then she would get sicker and then a little better," Mark recalls in quiet reflection, "and it got to the point where I realized that she had taken a turn for the worse and she wasn't going to get better."
Mark knew he needed to step away from work to care for Grace and be with his children, and the team was immediately supportive. "They were so good about it, way, way better than I ever would have expected as far as allowing me the time off and sort of an open-ended time off because we didn't know how much time she had left."
There was no question about taking the time away, but Mark did worry about how they would afford it, and that's when he heard about the Wilfred Schlegel Hope Fund, available to Schlegel Villages team members facing the dark periods of life. He admits, however, that applying for assistance seemed daunting in the face of all the challenges, but the Village applied on his behalf.
It was approved and shortly after, a deposit went straight into his bank account. Outside of the Erin Meadows community, a GoFund Me page was also created, and the Village contributed to that as well. A lot of people reached out to help, Mark says, and the outpouring of support made an excruciating experience more tolerable.
"In many ways . . . I did feel very much alone and the outpouring of support that I got from the Village and also through other initiatives, it totally blew me away," Mark says, the experience still so close and raw in his grief. "People really are willing to help each other much more that I would've imagined." 
Grace passed away in early March, 2023 and Mark and their two daughters forge ahead, perhaps somewhat comforted knowing that strength in community is there for them, and hopefully all who struggle against hardship.
Click here to learn more about the Wilfred Schlegel Hope Fund.