Erin Meadows shows neighbours what is possible in long-term care
The annual Walk for Memories fundraiser in the name of the Alzheimer's Society is an event that for many reasons connects closely to Schlegel Villages team members and residents. The Village of Erin Meadows had to pass on this year's event in June, however, because they were celebrating the marriage of a beloved team member. They didn't want to let the camaraderie, fellowship and fun of the event completely pass them by, though, so at the suggestion of a few residents and family members, they opted for a Sunday walk in August in the name of a different cause.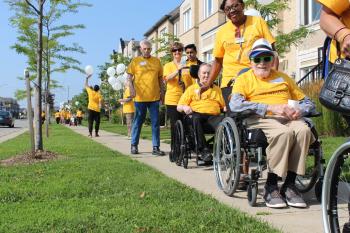 Perhaps it was the fact that this was a Village-driven initiative under a bright August sun, or perhaps it was simply the timing and the effort, but this walk far surpassed any success the village had known in previous similar occasions. After the idea emerged, team members ran with it creating a "massive event," as family member Ernie Ilson describers it, "that made us well-known in the neighbourhood."
"We had a sea of golden T-shirts making a river around the neighbourhood," Ernie says. Cars drove by honking horns while team members, families and residents circled the walking path throughout the neighbourhood off Winston Churchill Boulevard, where cranes tower over the rising Erin Meadows retirement neighbourhoods currently under construction.
This event, says Ernie, is just one more example of the efforts made by team members at The Village to enhance the lives of residents and ensure that they are connected to neighbours in the wider community. "For sure it puts us on the map in the neighbourhood," Ernie says.
Donna Lee Traetto has lived at Erin Meadows for nearly two years, and she admits that when she first made the decision to move into a long-term care setting, she didn't imagine such community events would remain possible.
"You slowly build yourself into it," Donna says, "and you become part of a whole different family."
 She usually spends weekends with family outside the village, but she made a point of retuning early for this Sunday walk and barbecue, and she's glad she did.
"This event – the walk, the entertainment, the barbecue – it was awesome," Donna says. "From start to finish, you couldn't ask for anything better. The residents had a wonderful time."
Not only the residents; everyone in the community enjoyed the full day, which in the end served three main purposes beyond fellowship and friendship: funds were raised in support of team member Jaitree Panchu, who will travel to work in Haiti in early 2018; attention was drawn to the Move More initiative, which encourages team members and residents to add more physical activity to their daily lives; and Village life was showcased for community neighbours, showing everyone that life in long-term care is filled with meaning and healthy activity. Now when people see the growing tower that will become the Erin Meadows retirement neighbourhoods, they see more than a nursing home or a retirement setting; they see an extension to a community where life is happening every day.  
---
Learn more about The Village of Erin Meadows