Dr. Allen Power inspires at the annual Schlegel Villages Operational Planning Retreat
By Kristian Partington
It was five years ago when Dr. Allen Power, a respected thought leader in the world of elder care, first connected with Schlegel Villages as a guest speaker at the organization's annual operational planning retreat.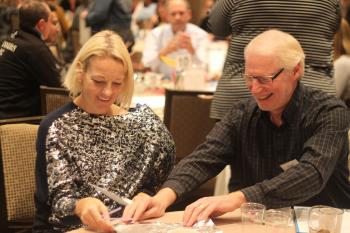 During the summit five years ago, Al helped the gathered team there aspire for a new culture of aging within Schlegel Villages and he's been a dear friend of the organization ever since. He once again played a pivotal role at this year's operational planning retreat, held at the Blue Mountain Inn outside of Collingwood Oct. 12-14.Schlegel Villages was still early on in its journey of transformation then; still tentatively feeling out what a reimagined approach to the service of its residents might look like, and Al was invited to share the depth of his experience. He's seen the broadest range of quality in long-term care during his career as a geriatrician, and he's been at the leading edge of change for the better through his work as an author and as a mentor with the Eden Alternative.
The group was much larger this year, the organization more broad, but the conversation was much the same, an extension of the idea that no matter what level of care someone needs at any age, there is opportunity for a life of meaning. The antiquated institutional nursing home model must give way to a new culture of aging, and this can only become possible when the environment is ready to accept change.
This year, among many topics of inspiration, Al spoke of two key ingredients for successful organizational transformation: wise leadership and a deep commitment to the journey. In the past five years, he has seen both in heavy doses within Schlegel Villages and he has seen how far the organization has come. He urged the 300 guests at this year's retreat to take stock of all that has happened and just how far they've travelled along this journey. He also reminded attendees that just like a garden, the environment required for successful transformation must be continually tended – the soil must be warmed, so to speak. 
He spoke of culture versus climate; if culture is the prevailing attitudes, beliefs and practices within an organization then climate is the underlying values. Leaders, Al said, help create the climate. They are instrumental in warming the soil so the seeds of change can grow.  But change consumes energy, it takes warmth from the soil and it's the responsibility of every committed person on the journey to continually warm that environment, nurturing the soil where transformation is rooted. Frost happens, Al warned, staying on the metaphorical theme that underlined his keynote addresses. There are setbacks, challenges and hardships, but "frost doesn't kill a garden," he said. "Loss of faith does."
In the afternoon of Day 1 at this year's retreat, Al reflected on the efforts Schlegel Villages has made to enhance the lives of those who live and work there.
"You can just see how so many things that were still sort of being tried and practiced have been engraved in the organization," he said, making special note of the authentic partnerships that support growth and the firm aspirations that guide each neighbourhood team in their quest to become better. He also pointed out that the organization now has a wealth of data to draw upon to help determine where progress is being made and where more effort needs to be expended.
"They (Schlegel Villages) are looking very critically and asking 'what are we doing well?' and 'where are our opportunities for improvement?' " Al said, "and that's the journey. You're never there. You're just always looking at the growth process."
"It's so nice to see what I think is, overall, a very high performing organization."
With constant warmth, the seeds of change will continue to flourish.