When Joan Bailey first moved into Emma's neighbourhood in the Village of Humber Heights in early 2014, she kept to herself. It's not uncommon for a new resident to feel this way, says personal support worker Vanessa Estrera; she's seen it many times since she began welcoming new residents to the village when she began working there in 2009.
Such a move would be overwhelming for practically anyone, let alone someone who lives with advancing dementia or Alzheimer's disease. As Joan grew more comfortable, however, she began to venture into the streets of the neighbourhood, and Vanessa recalls how much she enjoyed watching Joan walk the halls with the support of her walker.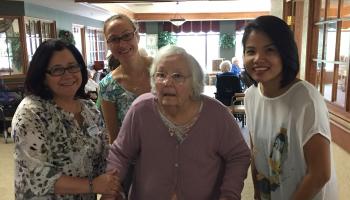 In April 2014, however, Joan suffered a fall and she'd lost confidence in her ability to walk. At that point she needed a wheelchair to get around the village. She persevered, though, and began working with the village kinesiologist, Dagmara Klitsz through the Program for Active Living in June 2014. Twice a week they would walk together and the team members began to see positive changes in Joan.
"She was more alert and more engaging in terms of her walking," Vanessa recalls, "so we asked Dagmara if we could get permission to walk with her more during the day."
This was just before village team members attended the inaugural Schlegel/RIA Innovation Summit in the summer of 2015, where they learned about the Move More Initiative meant to promote a more active lifestyle among village residents. With the support of PAL team members, others began learning what they could do to help Joan safely walk more often.
They are always careful, Vanessa points out, as they don't want Joan to experience another fall, but they know the extra exercise is making a difference so they do what they can with her as often as possible. Move More is not about exercise regimens or specific programs, says neighbourhood coordinator Lina Oliveira, "it's about daily routines and helping residents do as much as they can."
Instead of taking the wheelchair to meals, for example, she travels to the dining room with only the support of a walker and any team member who might be available. The whole team is involved, Vanessa points out, and perhaps that's why they've had such success.
Today, as of May 2017, Joan only relies on the wheelchair when she retires to her room in the evenings after a full day. She's more active in many ways and the team notices the improvements are not only physical but emotional as well.
"She's more engaging and she smiles when she sees familiar faces," Vanessa says. She has conversations and these were rare in the recent past.
"She's proud," Lina says, and the team feels the same way. Joan is an example of what can happen when everyone takes the time to move a little more and they hope her example will inspire others.