Dec 03, 2019 / Village Voice
Posted by: Kristian Partington
Chantal Hurst values efficiency in her work. "I'm a Zoomer," she says with a laugh. In the past two years as a dietary team member with The Village at St. Clair, she's figured out how to maximize her time in the meal set-up and clean-up in all the village neighbourhoods, and she is always on the look out for opportunities to be a little more effective.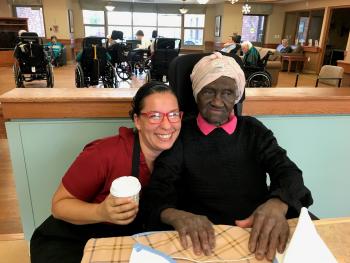 As a dietary aide, Chantal was able to develop more 
meaningful connections with residents when a dishwasher in
the neighbourhood created efficiencies. Albertina is just one of 
many residents Chantal enjoys connecting with at St. Clair. 
Then the Amherstburg neighbourhood made a change in its servery by installing a dishwasher. No longer would team members have to truck dishes up and down from the kitchen but instead, they remain there with the residents to take care of the dishes. That was Chantal's neighbourhood and she noticed a positive impact right away.
"There's a big difference because you're in your neighbourhood and sometimes you spend a lot of travel time going back and forth," she says. Quite frankly, there can be wasted time when a team member is waiting for others to make the trip from neighbourhood to kitchen, and as Chantal has discovered, that time can be spent in much more meaningful ways.
Chantal now works in various neighbourhoods in the Village and when she's in one of the four that has the dishwasher in the servery, she can often be found sitting with residents on Main Street deep in conversation. Her tasks are often complete with time to spare and she's developed strong relationships with several residents in the time she's found, which has brought much more meaning to her role in Village life.
"It's nice because you get to know your neighbours (residents) so you have relationships," Chantal says. "It goes beyond the job after a certain point."
She mentions a resident in Kingsville who sometimes experiences difficult days. Chantal knows the PSWs and nurses can struggle to find the time they need to comfort this resident, but Chantal will often have that time. "Sometimes it's really nice because I'm doing my dishes and I'm not in a rush because I've already zoomed around and I literally have time to sit there and talk with her." An important pillar within the Schlegel Villages CONNECT The Dots customer service philosophy is Know Me as a Unique Human Being, for when we truly know a person we can respond to their needs in an authentic manner. Chantal embodies the spirit of this pillar naturally and the seemingly simple change of adding a dishwasher in the neighbourhood allowed this to happen by creating that added time.
"It really makes a difference," Chantal says. "It makes me feel rewarded and that's why I like this job."