Aug 03, 2022 / Village Voice
Posted by: Kristian Partington
When she considers the concepts behind the CHOICE+ dining initiative to enhance the mealtime experience for residents in long-term care or retirement settings, Susan Ross says much of it seems to be simple, common sense.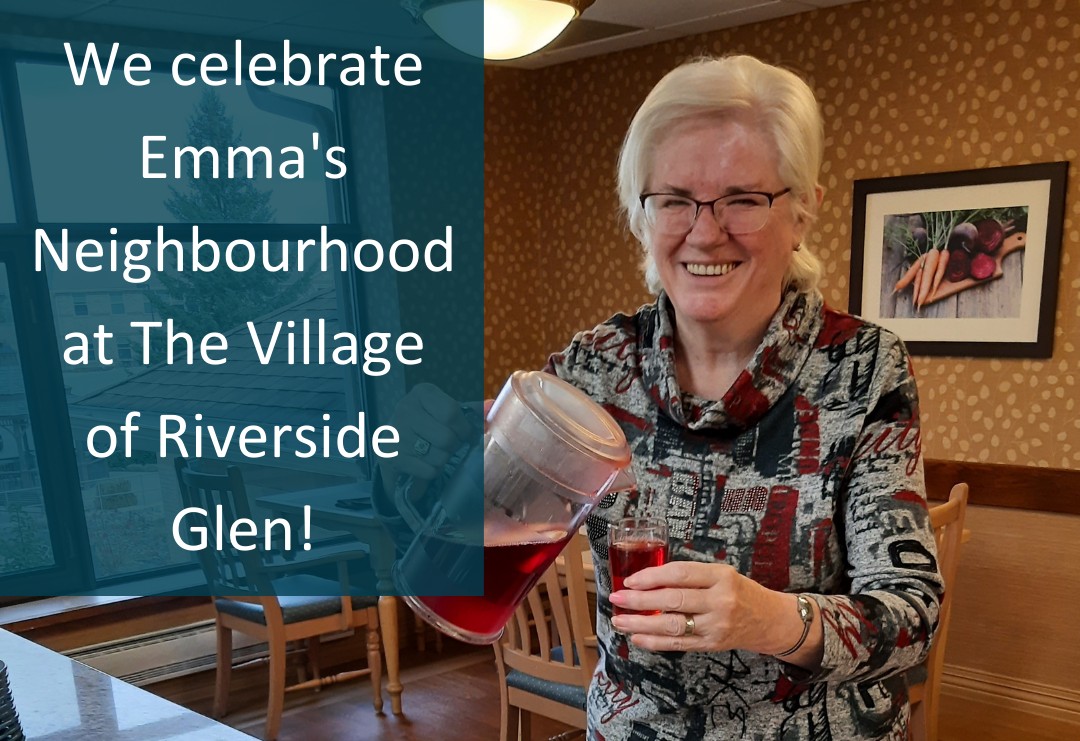 Yet in so many environments, practices are deeply-rooted and change requires incremental steps, thoughtfully taken over time. Susan has lived in The Village of Riverside Glen's Emma's neighbourhood since mid-2021, and has noticed the positive impact of changes in dining room practices for her and her fellow residents, most of whom live with some form and varying degree of dementia progression.  
Developed through the Schlegel-UW Research Institute for Aging (RIA), CHOICE+ focuses on creating relationship-centred practices and enhancing the dining environment, based on six principles:
C - Connecting: having meaningful conversations and socializing;
H - Honouring dignity: respecting decisions, choices and preferences;
O - Offering Support: supporting residents based on individual needs;
I - Identity: knowing and accepting residents as unique individuals;
C - Creating Opportunities: supporting active mealtime participation;
E - Enjoyment: creating a warm and welcoming dining environment;
Susan says something as simple as providing the opportunity for residents to freely choose to get their own cup of coffee goes a long way.
"The team was constantly running back and forth trying to get liquid to all the residents and one day I just got up, walked over and poured myself a cup of coffee," Susan says. "I went back to my table and my tablemates asked, 'How'd you do that?' I said I took my two legs and my two feet and walked over."
'Surplus safety' prevents many care providers from offering opportunities for people living with dementia to choose to get their own cup of tea, however. What if they spilled it? What if they burned their hand?
"I don't think it's too much of a risk and we always have people around," says Madalyn MacIntyre, the Emma's Neighbourhood Coordinator. "If someone is walking with a warm cup of coffee and it looks like they need a hand, we have someone around to help." Knowing each resident's individual preferences and abilities certainly helps, she adds.
Addressing the noise levels and busyness of the dining room can also make for a more pleasant experience, Susan says, especially for people who can feel sensory overload with too much stimulation. When the dining room is calmer and quieter, Susan notices her neighbours tend to eat more off their plates, and RIA research backs up the correlation.
Hospitality Director Olivia Paaren says the open servery that has snacks available for residents mostly all the time was also a big change, and it adds another layer of autonomy for residents.
"Late at night, they might be looking for a snack," Olivia says, "and we were saying 'stop, you can't do that,' when in reality a snack or getting a drink might help reduce personal expressions."
Change is a work in progress, but Madalyn, Olivia, and Susan all agree the effort has been worth it and the team will continue to keep working at it.
Providers can be set in their ways and may need support to progress, however, which is why the CHOICE+ Champions for Change course, launching in August through the RIA, is important. It offers e-learning modules filled with practical, evidence-based tools for care providers who recognize the importance of more meaningful dining experiences and want to implement changes.
Please visit the CHOICE+ site here for more information.
"The Schlegel-UW Research Institute for Aging (RIA) is a charitable, non-profit organization dedicated to enhancing the quality of life and care of older adults. The RIA tackles some of the biggest issues facing an aging population by driving research and innovation to improve education and practice. The RIA develops and shares solutions that make a difference to benefit older adults everywhere. Learn more at the-ria.ca"