In honour of World Alzheimer's Day, marked globally on Sept. 21, The Village Voice pays tribute to a man who lived his life to the fullest, despite an early diagnosis of the disease.
To sit in Ross Knee's room in The Village of Sandalwood Park was to sit in a small museum dedicated to aeronautics. He had model airplanes throughout the room, each one a small version of the machines he worked on throughout the world as a mechanic. Books on the subject were everywhere.
To hear his stories was to defy any inclination that he lived with Alzheimer's disease, for they were filled with intricate details of not only the work, but also the people who made it interesting. He met his wife, Bernice, while posted on Canada's east coast, and he loved telling the story of their meeting.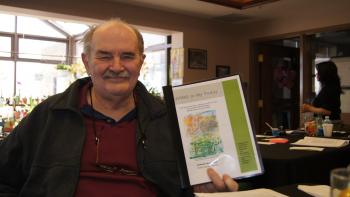 Alzheimer's disease never defined him; he was defined instead by his passion as an advocate for his fellow residents and a confidante who understood their challenges, whatever they may have been. Sandalwood Park's recreation director Jennifer Gould recalls the kindness he showed when as residents' council president he welcomed her to her new job back in 2010. Her grandfather, also an airplane mechanic, had just passed away, and she connected with Ross closely in that period of initial grief. They would remain close from that point on.
"He was everything that my grandfather was," Jen says. They spoke often and organized events together. He ran the General Store in The Village and she supported him in that, making sure the inventory was stocked to his specifications and he had all he needed. He liked running the store, for it provided opportunities to connect with his fellow residents and Village guests throughout the days.
When Schlegel Villages, as an organization, embarked upon the development of a dementia education program built upon the lived experience of those with the disease, Ross's input was invaluable. He was happy to share his insights and infinitely grateful to know that his input and that of others who shared his perspective was of use. The award-winning program, LIVING the Dementia Journey, was made all the more practical thanks to the help of Ross and his fellow advisors, and it will remain an important part of his legacy.
He encouraged other residents to take part in the program so they might gain a better understanding of what living with dementia can be like; perhaps empathy would grow in the process and stereotypes would break apart, one person at a time. A resident named Evelyn, who had cared for her husband while Alzheimer's altered their existence, took part in the program at Ross's urging. Jennifer recalls Evelyn's tears afterwards. "They were tears of somewhat sadness and joy because she was so glad that she had been told to take that course," Jennifer recalls. ' "I wish I had taken that course sooner because I would have understood what my husband was going through,' she said."
That was but one person who felt the impact. There have been hundreds since.
"When he connected with you, he was so enlightening," Jennifer recalls, thinking of her friend Ross. "He never gave up. He was always advocating for residents, no matter what roll he had in The Village. Residents would go to him, knowing that they could always rely on him to help them."
On March 11, 2018 Ross wheeled his chair to Jen to ask if she would open the store for him so he could check on the inventory. His disease had progressed quickly in recent months, but he was still Ross, still working on behalf of his fellow residents. He went to his room after he finished and later a nurse came to see Jen, telling her Ross wanted to see her before she left that day.
Ross passed away before Jen arrived, the models of his life surrounding him as he lay peacefully in bed. He was defined by his passion, his friends and loved ones will recall, never by his disease, and that will always be his legacy.