Wisdom of the Elder event showcases immense wealth of talent and creativity
"It's amazing, the abilities that you find," said Ross Knee while surveying the hall at Bingeman's Park in Kitchener that, on June 22, housed more than 120 of his fellow residents from across 16 Schlegel Villages, each one sharing some of the passion that has infused meaning into the decades of their lives.  Ross came from the Village of Sandalwood Park in Brampton to display a small sample of his model airplane collection, which helps to shed light upon his long and meaningful career in aviation.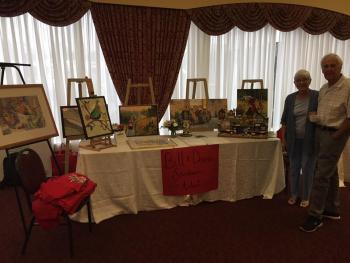 Each person gathered in the room and each passion they shared marked a different story from a different generation, and each one is an important thread in the fabric that weaves together the wonderful and complex mosaic known as Canada.
Painters and poets, woodcarvers, waltzers and playwrights all came together as part of Schlegel Villages' annual celebration of the Wisdom of the Elder, a key signature program the organization invests in every year.
"We need all ages," said Ron Schlegel in his welcoming address to the room, "but we particularly need the wisdom of the elder. That wisdom is the most unexploited resource in the world . . . so tell the world what drives you, what motivates you and what you've done in your life."
In doing so, the lives all younger generations are made all the more rich.
The looks of pride upon the faces of so many people were an inspiring sight but what was perhaps most inspiring was the fact that many of the exhibitors were displaying creative passions they'd only recently discovered in the later years of their life.
For example, together with his wife, Donna, Bill Sanderson from The Village of Tansley Woods shared a display of their artistic flare: Donna's exquisite paintings and Bill's unique, dollhouse-like creations, something he only recently picked up.
Donna was always an artist in her younger days, Bill said, painting in high school, but as the story often goes, raising a family and pursuing a career became her priority. When she rediscovered her love of painting and her interest in art once again gained momentum, Bill was taken in by sheer proximity.
"I started to look at things a little differently and see things that people were doing and say 'I think I could do that, why don't I try to put my own twist on various things," Bill said.
Like Bill, Countless people in the room discovered new talents as their years of experience mounted, and the Pursuit of Passions event was a celebration of the unending desire so many residents have to keep exploring who they are and what they have to offer this world.
"All of these older people doing wonderful things," Bill pointed out from his vantage in the corner of the hall, his eyes wandering along the rows of linen-covered tables.
"It's amazing."
---
Learn more about the Wisdom of the Elder Signature Program