Sometime in mid-2017, teams in the long-term care neighbourhoods in The Village of Riverside Glen realized the restorative care program had sort of slipped from view; they weren't taking advantage of the program to support residents who might benefit, so they decided to refocus.
A year later, a large group of residents were honoured for their dedication and hard work in achieving their restorative care goals, and the team that supported them couldn't help but share their pride.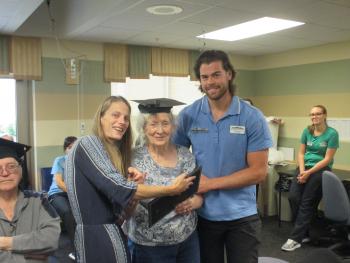 "Not only were we able to sustain the program for the whole year," says personal support worker Mandi McEwan, the program lead, "but we had 23 graduates." While their achievements are modest in some cases and quite profound in others, Mandi says one of the greatest benefits of the program beyond the health improvements is the depth of relationships that have grown out of its resurgence; relationships that are borne out of trust.
"When you're trying to help someone who's been in a wheelchair to walk again," Mandi says, "when you're trying to build that confidence, you need to have trust between each other and without building the relationship and getting to know what actually gives security to each other, you can't do that."
One resident, for example, wanted to improve her speech and as the team learned more about her they discovered the importance of music, so she would sing. "You found what gave her heart fulfillment, which were musicals like Oklahoma, The Sound of Music, Mary Poppins, and you would get so much out of her," Mandi says. She would sing for 25 minutes at a time, and her speech inevitably improved.
The "graduation" event on Aug. 1 was about celebrating each individual's success – the woman who sings again or the man who stands and walks out of his wheelchair – and the pride they each feel in their achievements. Gerri Leaman simply smiled wide when asked if she was proud, answering a resounding "yeah" through the smile. Another resident joined Jude from the kitchen as he sang to open the ceremony, and one gentleman named Cliff said he thought it was a "cool accomplishment" as he looked down upon his certificate. Mandi says he held the frame tightly thereafter.
The celebration was truly everyone's success. There may be one core restorative care team that takes the lead on assessments and documentation, but all team members have been involved. From kinesiologists and exercise therapists to recreation, food services, housekeeping, nursing and the personal support workers on the floor in each neighbourhood, countless team members have been involved in the program. The fact that they each see the successes in every incremental step is the key to the program's sustainability, for they all want to keep the momentum moving.
"It's contagious," Mandi says of the potential in restorative care, "because all teams are talking," and they made a point of being visible in all corners of the village so others would see the benefits and now she feels it's entirely sustainable. It may take time and effort, but the results really do speak for themselves.