Mar 25, 2020 / Village Voice
Posted by: Kristian Partington
As Ontario responded to news that the coronavirus emerging from the other side of the world was no longer a far away concern but a pandemic sweeping across the globe, Val Marie Coutts was more than 4,000 km away from her mother Donna, wanting nothing more than to be by her side.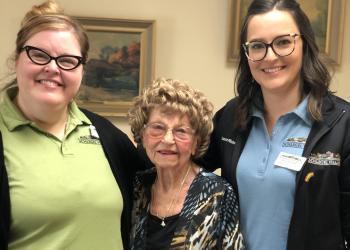 Becki and Devon are just two of many team members going 
above and beyond with residents like Donna at Riverside
Glen to connect them with loved ones . 
Donna lives in the Eramosa neighbourhood of the Village of Riverside Glen and Val Marie is in Vancouver. Even with that great distance to consider, however, Val has arranged to come to Guelph for an extended visit at least every six weeks or so. 
She was scheduled to fly to Toronto on March 17, three days after the Ministry of Health made the decision to ban all non-essential visitors in our long-term care and retirement homes. As with all families who have been forced to stay away to protect the health and well-being of their loved ones, who are most vulnerable to the dangerous effects of the COVID-19 virus, Val Marie and Donna were both heartbroken.  
It was especially devastating for Donna, who has always been a social person and loves nothing more than visits with her friends and family. But despite the heartbreak, Val Marie says there have been moments of joy as team members help bridge the distance through the beauty of technology.
"I would like to acknowledge all the incredible staff working in the Eramosa neighborhood, who have provided her with extra support during this very difficult time," Val Marie writes in a message of gratitude. She points out people like Devon and Susanne, two team members who, despite all the challenges the world is facing right now, are focused on her mother's needs.
"You and your teams are nothing less than amazing," she says, pointing to another team member, Becki, who has helped guide both Donna and Val through the intricacies of a WhatsApp call.
"My lack of technological knowledge didn't discourage Becki, and we were finally able to connect.," Val Marie says. "It was so wonderful to see mom and for her to see me, and we have shared several WhatsApp conversations since." 
Even as the world faces so many unknowns, there is comfort in the caring hearts of people Val Marie barely knows, she says, for they are doing a great job caring for someone so special to her.
"My husband Chuck and I can't express the gratitude and comfort we have knowing that mom is being cared for by so many caring and wonderful professionals," she concludes. 
"Thank you to each and every one of you; may you and your families stay safe and healthy during this very trying time for all of us."