Jan 07, 2020 / Village Voice
Posted by: Kristian Partington
When Darla Walker reconnected with a dear friend, Bill, from her days in university, it was as if only weeks had passed, not decades. Life had taken them down different paths filled with challenges and difficulties, but eventually steered them once again into each other's line of sight.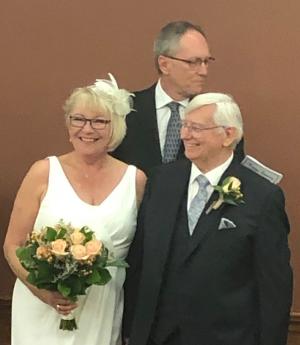 Darla and Bill were married at Erin Meadows by 
Darla's brother, Rev. Michael Ward.
They would not be separated again.
When they decided to be married, the only logical place for the ceremony was The Village of Erin Meadows, where Darla's mother Pat lives.
Darla's connection to Schlegel Villages began in sales and marketing at The Village of Humber Heights before she moved on to Taunton Mills. Her last role was at Tansley Woods where for a few days a week she helped reinvigorate the general store there.
"I loved it," she says. "I was never going to retire."
But then she reconnected with Bill and their lives became intertwined. She recently retired and in her mother's suite on the 4th Floor of the new retirement neighbourhoods at Erin Meadows, she and Bill share the story of their friendship and love rediscovered.
Bill describes meeting the most beautiful girl on The University of Toronto's Scarborough campus, whose vivacious personality and deep faith inspired him to learn more about his connection to spirituality. He speaks of Darla's mother in terms just as glowing; she was the head of a family that welcomed friends as if they were blood related, and Bill thought of her the same way.
Bill loved Darla then, though the courage to tell her was fleeting. She married another and moved across the country while he created a lovely life with another woman, whom he cared for through a prolonged and devastating illness. Bill's faith carried him through dark times and after his wife's passing, he was able to look to the future with optimism. Darla, too, had suffered in her own way while going through a difficult divorce before starting her life anew.

Darla and her mother Pat prepare for the wedding ceremony.
"There were hard years, there," Darla admits, but any hint of the sorrow in her eyes is quickly cast aside as she glances over to her husband. They go on to describe how in the summer of 2018 Darla came across an old photo of Bill from the mid-70s. She tracked down his number and called him, offering to mail the photo, but when they realized they were relatively close they chose to meet for lunch instead.
"It was like four and a half hours," Darla recalls of that first meeting, "and we barely even ate. It was just like we were right back there (in the early days of friendship)."
The meetings they had afterwards were much the same and it wasn't long before they decided they could be happy together for the rest of their lives. They were married on a Saturday morning at the end of November in the chapel at Erin Meadows, with Pat's new friends from The Village and Darla's many old friends from across the organization in attendance.
"I couldn't believe they wanted to do it here," Pat says. "It was just wonderful, all here together. It was such a special day."
Darla will never forget the way the eyes of residents lit up when Bill's grandchildren walked into the chapel, and the way Erin Meadows shone as a true Village that welcomes all for a celebration of love.