Gabrielle Uger fell in love with theatre long ago and that love never faded from her system. Through a life path that carried her from Texas to Northern Ontario and eventually Guelph, where she discovered a new love working alongside residents in The Village of Arbour Trails, the artistic and emotional release theatre can represent remained a key part of her life.
"Even in my role as a housekeeper, I find constant ways to make my time fun," Gabrielle says, "which you definitely need sometimes." She shared her insights with attendees of the 4th annual Schlegel Villages/RIA Innovation Summit, explaining that theatre and improvisation provides a creative outlet for people of all ages and can enhance resident life quality because simple theatre games allow for a different type of emotional release.
To make this early point at the beginning of the session, she led a game she calls Simon Scream. She encouraged the 30 or so people in the breakout session to spread out around the room and prepare to mimic the physical and facial expression of a full-on scream without the sound.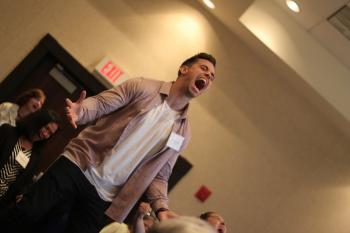 "I want you to feel the tension in your body where a scream would be if you were actually going to release that noise," she instructed. "Are you angry? Are you tired? Are you scared? Are you happy? I want you to feel where that scream would be in your body and I want you to react to that scream."
After the strange silent moment, she asked everyone to let a full scream out, and the room erupted, shaking the walls in the session next door.
Everyone could feel the release Gabrielle spoke of, and she asked people to imagine transferring that same sense of release into a resident perspective. "The first and foremost reason I wanted to do this was to empower residents," she said.
"This is something that I decided they could use to create their own stories, create their own characters and that helps them work through some stuff; they have to pull from their life and they're empowered to express those emotions and express those feelings.
"It's a really powerful thing."
It's also valuable tool in building relationships, Gabrielle pointed out, and as the session moved forward and more theatre games were played, the group could see how quickly people come together in a fun and meaningful way.
Innovation doesn't necessarily have to be some great invention or massive, transformative thought commercialized into action. As Gabrielle showed, innovation can be as simple as utilizing existing passions as a means of enhancing the lives of others. A housekeeper and theatre Guru is making a difference at Arbour trails, and other villages are now catching on.