For one neighbour at St. Clair, the benefits are plain to see
By Kristian Partington
Not long after Amanda Jones began working in a new full time position with the recreation team in the Kingsville neighbourhood in the Village at St. Clair, she met a neighbour named Richard. Compared to many who call the Windsor village home, Richard is a relatively young man living with the changing effects of memory loss.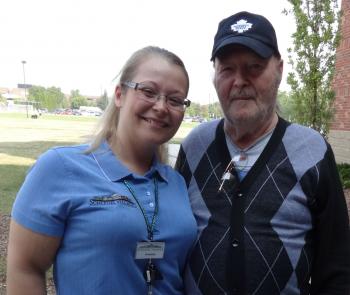 The challenges he faced compelled him to do little more than stay in his room – he didn't interact much with other residents and rarely participated in village activities, organized or not. He often expressed himself with anger, Amanda recalls, and she had a difficult time connecting with him.
But when they first met she remembered talking about how one of his dreams in life was to race cars, so the idea came to her that while she may not be able to get Richard into the NASCAR circuit, she could still engage with him in a different way. She brought her Mario Kart racing game for the Nintendo Wii into the village and let Richard know.
"I told him that this was the activity we were going to be doing today and I didn't know how many people were going to be excited about it, but I knew that his dream was to race cars," Amanda says. "I told him we could do it on the T.V. even if we can't do it in real life." Four neighbours sat down with the controllers and together with another recreation team member, Noel Erum, Amanda brought the racing game to life.
"It took about a half hour before any of them caught on, but once they did it was pretty amazing to watch," Amanda says with a laugh.
That day was the beginning of a new sense of connectivity between Amanda and Richard and since then, the changes have been remarkable. He participates in most of the scheduled activities and when there's entertainment along Main Street, he's often there.
"He comes to a lot of things that he wasn't willing to before, now that we have that connection," Amanda says. And along with increased engagement the team is noticing that Richard is far less likely to express himself with anger and Amanda says it feels "amazing" to see him with more of a sparkle of happiness in his eyes.
"It's my favourite part of the job," she says.
As St. Clair recreation director Hannah Renaud reflects on the relationship she's watched flourish between Richard and Amanda, she talks about the importance of one-on-one time between team members and residents (or neighbours, the term St. Clair prefers).
"We, as recreation team members, are so lucky to really be able to utilize and live our aspiration statement of flexible living, having the luxury of being able to spend that one-on-one time with the neighbours and really dig deep and get to know them almost as well as their families," she says.
"The more we know about them, the more we can help them to grow and flourish at this important time of their lives. I really think that it is so important to continue to carve out time during the day to spend one-on-one with the neighbours, not just for rec., but for all team members."