Feb 23, 2018 / Village Voice
Posted by: Kristian Partington
In the early 1990s, well before Brad Schlegel joined his brothers at the head of RBJ Schlegel Holdings Inc., the overseeing company that owns and operates Schlegel Villages, he was an Olympic Athlete. He twice won silver in hockey, first in Albertville, France in 1992 before Lillehammer, Norway in 1994.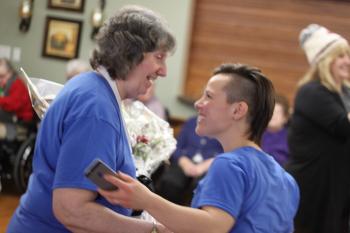 Barbara and Michelle celebrate after the medals are awarded.
It was appropriate then, that Brad was on hand at the Village of Winston Park to welcome the resident athletes who converged on the Kitchener home to compete in the 2018 western Schlegel Villages Olympics. The event has brought residents and team members together every two years since 2010, creating a true sense of community that swells well beyond any one individual village.
As Brad pointed out in his opening remarks, that sense of community is one of the greatest memories he cherishes when looking back on his Olympic experience. Yes, the Olympics, whether on the global stage or in the villages, is about athletics and pushing the boundaries of physical excellence, Brad said, as well as celebrating achievement. But there is also the idea of "representing something greater than yourself," while realizing "we are all interconnected, as a world. I love the idea of the Olympics as the world coming together, the world getting to know each other."
For the residents and team members representing nine villages at Winston Park on Feb. 22, the goals and the benefits are much the same.
Barbara Caldwell, for example, represented one of the newest homes to join the Schlegel Villages family, Pinehaven Nursing Home in Waterloo. Under the guidance of team member Michelle Schultz as coach, Barbara won a bronze medal in the curling event. She thoroughly enjoyed competing, she says, and doing so with Michelle, someone she considers not just a care partner but also a friend.

Brad Schlegel shared his two Olympic Silver medals with 
resident athletes at the Schlegel Olympics at Winston Park.
"It's so great to feel part of a family and to feel part of the Schlegel community," Michelle says, "and really celebrate the residents' achievements, their skills and their can-dos, not their can-nots.
Barbara, Michelle adds, "loves celebrating the moment with her friends and the community around her."
Earlier in the day, Barbara was nervous, almost reluctant to come, but those felling melted away when she entered the village to raucous cheers and applause; that warm sense of community carried on throughout the day.
And it will carry on well beyond. The benefits of supporting these Olympic events, like the other annual events that fall under the umbrella of the Schlegel Villages Wisdom of the Elder signature program, are felt for weeks and months after the event.  
Much effort goes into preparing and when the event is over, the memories remain strong and vibrant, no matter the outcome of the competition, and the sense of community connected to the Wisdom of the Elder is stronger for it.