My Grandfather once drove practically non-stop from Southern Ontario to a little town south of Red Deer, Alberta because he wanted to surprise my sister during her hockey tournament. He was wearing the blue sweater we sent him for Christmas that year and when she looked up into the stands to see him standing there, his smile and that tacky sweater stood out among the crowd.
He died when I was 13, but 27 years later, we still think of how he made each of us feel special; how he used to flash his false teeth at us by flicking them upon his tongue during Christmas or Thanksgiving dinners when my mother and grandmother weren't looking. He could always hide them again, just in time so they wouldn't catch him. They never believed us when we told them what he was doing and with a wink and mischievous grin, he'd let us know that he had the upper hand in trickery.
My grandparents are but simple memories today, yet seeing the wonderful reaction to the Schlegel Villages Grandparent's Day promotion asking people to share their stories of why theirs is the grandest grandparent of all warms me. It reminds me of the unique bond that can exist across the span of generations.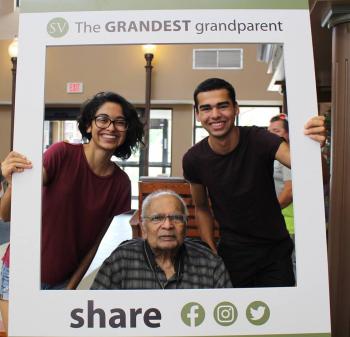 People with varied connections to Schlegel Villages have shared stories, videos and photos celebrating those they cherish, and across the villages different celebrations were held to mark Grandparent's Day Sept. 9. Some memories are timeless, spanning decades, while some were made anew in time for this special promotion.
80 years ago, for example, a photo was taken of Arbour Trails resident Jean Bryce and her grandmother Bessie Keith. "I remember sitting in the living room with my 'Gramma' and also running from one end of the living room to the other and she would catch me and hug me," Jean recalls. "We both loved it."
And younger children responded with their thoughts of more recent time shared with grandparents or great-grandparents. "Our "Pop Pop" is the absolute best because he plays with us, laughs with us and, most importantly, loves us," say Ivy and Wes about their grandfather Norm, a resident at Riverside Glen. "We love our Pop Pop!"
To honour the wisdom of older generations is to recognize lessons of the past that help to inspire a better imagining of the future. In grandparents and mentors, this wisdom is plentiful, and The Grandest Grandparent promotion through late August into September is a reminder of the treasure of our elders' experience.   
Click here to see more stories, videos, poems and pictures.