Oct 24, 2019 / Village Voice
Posted by: Kristian Partington
On a damp, grey October Wednesday in the Village of Aspen Lake, the small Charitable Works committee there offered a little warmth to The Village. They hosted a small soup luncheon, where for $5.00 residents and team members could grab a steaming bowl of soup and a fresh roll to ward off the damp chill of Autumn. In the process, they contributed to the Wilfred Schlegel Hope Fund, which helps Schlegel Villages team members facing difficult circumstances in their personal life.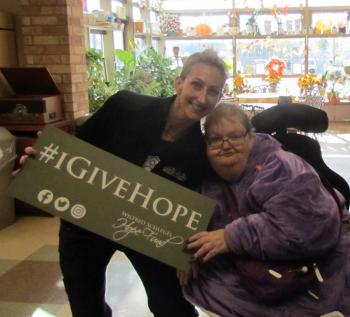 Renee and Nikki promote the Wilfred Schlegel
Hope Fund in The Village of Aspen Lake.
Resident Renee Ganley is a proud member of the committee and she says that whether their focus is on the Heart and Stroke Foundation, the local Dragonboat Festival or the Hope Fund to support those who support Schlegel Villages residents, the Village is happy to give what it can.
"So many community partners help the Village," Renee points out, "so it feels good to be able to give back the other way."
With this particular fundraiser, the funds raised are only part of the equation; the other part is simply raising awareness about the Wilfred Schlegel Hope Fund, which was launched in early 2018 as a means of formalizing support for team members who are struggling. Every dollar raised up to $50,000, either through events like the soup fundraiser or through direct donations from team member paycheques, is matched by the Schlegel Family. Team members who've suddenly faced illness or loss in their families, for example, have been offered help and felt the love of their community through the fund; as a resource for hope in dark times, it continues to grow.
Renee spoke with one team member during the soup luncheon who proudly proclaimed that they already donate regularly to the fund with a small amount coming of each paycheque, and she was thinking of increase the donation. "She was very proud of the fact that she donated regularly," Renee says, and that pride is a lovely thing to see.
Bruce Jackson, the Village Chaplain, says there is an added benefit to giving of oneself in support of a neighbour – a benefit he's happy to see among the team and the residents at Aspen Lake.
When we do something for someone else it releases endorphins within our body, within our brain, that we can't get from anything else," Bruce says. "Giving to someone else creates almost a euphoria."
The small committee has been active in the Village for the past three years and beyond the planning it does, there are always lots of other people that come on board to make sure everything that needs to be accomplished is taken care of for a particular initiative. The 'packing party' for Operation Christmas Child, for example, is resident-driven with a large group getting together to pack shoeboxes full of goodies that will be sent to children in developing countries at Christmas.
"What you can do is only limited by your imagination," says recreation director Jenny Brown, who is also part of the committee, "so there are no limits, really."