Jul 30, 2019 / Village Voice
Posted by: Kristian Partington
At 102, Isobel Heighway may be a slight woman, but her personality and the way she cares for others is larger than life. It shines through in many ways throughout her home in The Village of Taunton Mills, but many notice it most clearly in the relationship she's built with Staci Wale, the Village's administrative assistant.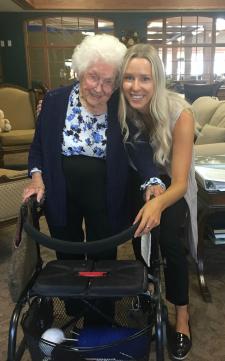 Staci has learned so much through
her friendship with Isobel. 
Every morning, without fail, Isobel stops by Staci's desk just off the Town Square in the centre of the Village to offer some kind words and a bit of nourishment; she always has at least one piece of fruit for her young friend to start her day off well. They might chat for 15 or 20 minutes before Isobel ventures off to go about her Village business and leaves Staci to hers. It's a regular interaction with a special soul that Staci looks forward to every day, and the gift of the fruit is an added touch of deliberate consideration.
"It's so sweet," Staci says. "She'll tell me 'I can't live with myself if I don't know that you've eaten today.' "
There's an inherent, nurturing kindness within some people, and Isobel is their ultimate matriarch. Food was always a means for her caring qualities to shine through life and her four sons and two daughters all learned how to cook and bake when they were young. The wives of her sons 'are all very lucky' she once told Staci during one of their morning conversations.
Isobel once held a job in a school cafeteria where she looked after countless children to ensure they had both nutrition and kindheartedness to fuel their days. At the time she started the job, the school was having a difficult time getting kids to eat their lunches, so she approached the principal with a solution.
'I know how to get these kids to eat,' she recalls telling the principal. 'You need to put a little zip into it!" 
She worked in that cafeteria for four years and never once saw wasted food in the garbage, she says, noting that 'it's all about the little details when you cook.'
For Staci, the details go far beyond just food in her connections with Isobel; they are in every opportunity she has to receive kindness and learn from her older friend through their daily conversations. Staci has learned the importance of the little things in life through Isobel – the value in a daily walk for example, or in taking time for oneself amidst the daily grind of life.
"That's what she gets her enjoyment from and that's what keeps her going," Staci says.  "She's incredible; she's 102 and I should be taking care of her but here she is making sure I am okay."
The fact is, a relationship built on care and support should be reciprocal and in Isobel and Staci, it's the natural evolution of their wonderful friendship.