Since the middle of November, Schlegel Villages has been warming up to the Christmas season with wildly successful bazaars along the Main Streets and poinsettia dinners and Christmas socials throughout the neighbourhoods.   
These are family affairs, as Christmas events should be, with the teams, residents, neighbours and loved ones all coming together in the spirit of togetherness. For the bazaars, which welcome hundreds of people to open-air markets along Main Street in each Village, residents and team members prepare for months. Gifts ideas in the form of intricate crafts, knitted blankets or homemade preserves move quickly at these events, and the funds raised go directly back into the villages' residents' councils.
Some residents choose instead to support communities outside the village, as in the case of Humber Heights where the knitting club works all year to create items to sell at the bazaar. They then donate the proceeds to a local homeless shelter and a fund to support families in need, brightening the season for those who could use a little extra help.
"When I eat my supper on Christmas," says Maria Sobol, who founded the knitting club at Humber Heights, "I think of the dinners we gave for the poor, then I feel better and my food tastes better."
The Villages of Aspen Lake and St. Clair in Windsor have been hives of activity in preparation for their festive events. Every neighbourhood in each village welcomed as many as 50 extra family members and friends for either cocktails and hors d'oeuvres or a full sit-down dinner with all the trimmings. Team members worked tirelessly, with many coming in on a volunteer basis to make the events memorable for residents and their loved ones, and the kitchens vibrated with the hum of extra effort.
It's the way Christmas should be, with new memories created that impact everyone involved. The Village of Tansley Woods saw it again in the faces of residents, guests and the young people with Burlington's 27th Orchard Scouts/Cubs who returned to the village to serve dinners and bus table for the annual Long-term Care Resident and Family dinner.
"It was really nice to see not only the Youth's smiles as they were delivering plates of food, but to also hear all the Youth talking about how much fun they were having and how nice everyone was being to them while they were helping," says neighbourhood coordinator Chris Micheletti.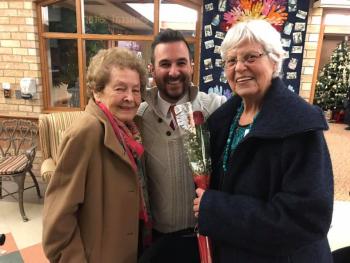 "Family members, residents and the Scouts alike were so happy that it really felt like we were all sitting around one big Christmas dinner. I really don't think I have words to express how happy it made everyone yesterday evening."
Throughout all 19 villages, the spirit of family connectedness draws people together during the festive season; may it carry them forward into the excitement of the coming year.