By Kristian Partington
Jake Corrent likes his shoes, and not just in the 'Dang, these are some comfortable shoes' kind of way. He really likes his shoes, to the point that some of the limited edition Air Jordan sneakers in his collection would easily sell to other collectors for more than $1,000 US.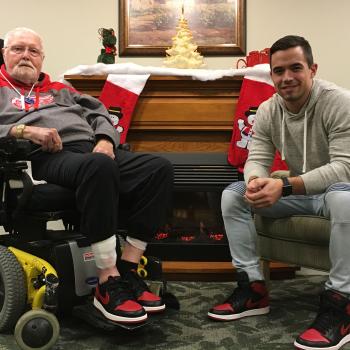 As an exercise therapist at The Village of Aspen Lake in Windsor, it seems fitting that Jake's style choices fit an image of athleticism, and resident William Forster has always taken notice. Jake and William have been working together to improve William's strength and mobility through the Program for Active Living at the village for a few years now, becoming good friends in the process, so when William decided he was due for a new pair of kicks, he went to Jake.
"I've seen Jake coming to work in his really nice shoes and I was due for a pair and I started questioning him," says William. "Well, some shoes are worth a thousand dollars, and I said 'Holy God,' I'm not into anything that heavy.' "
But he did want a nice pair, so the two visited eBay together, looking over all the options, finally settling on a less-pricey pair of discontinued Air Jordans that Jake bought on behalf of his friend, who was able to pay him back in no time.
"They're a collector's item," says William, noting that he doesn't put a lot of wear on his sneakers so they should last him a long time.
"I was really surprised that Jake would spend his time searching the different places and showing me the different shoes," he adds, and now that he has them on most days, they tend to turn a few heads.
"You wouldn't believe the girls that'll tell me, 'Geez, those are some nice shoes,' " William says with a laugh. But beyond the style appeal, there's also the fact that he and his friend Jake now share one more thing in common.
"To some, it may not seem like much," says Jake, "but to us it means a lot."
When they wear their matching shoes, it's a symbol of the relationship they've developed over the years and in a way it helps motivate William to exercise and work on improving his strength and mobility. A bit more exercise, he says, is good for everyone and any motivation is good motivation.
For William, it means a lot to know that Jake and the team members in the village will go beyond the typical call of their duties in the village for residents like him.
"They spend their working hours helping other people," he says. "You know, they make a living at it but it's something that they enjoy doing."
When he thinks about Jake and the story of their new matching kicks, he knows life in the village is more about the friendships built there as team members walk side-by-side with the residents, new shoes and all.