Sep 28, 2023 / Village Voice
Posted by: Kristian Partington
Lou Orias carries himself with the calmest measure of positivity one could ask for in a caregiver, and it has carried him through nearly four decades of work at Maynard Nursing Home.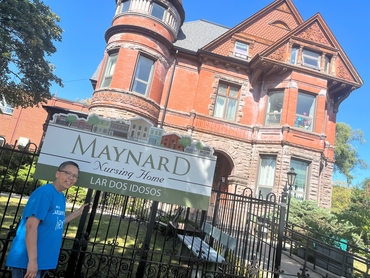 Lou arrived in the Toronto area in 1980 as an 18-year-old alongside his younger sister and parents. They'd come from a poor mountainside community nine hours outside of the largest city in The Philippines, Manilla, and with the support of an older sister who was already in the Toronto area and her employer, the family was sponsored to build a new life beyond the grip of poverty they faced at home.   
Lou studied to be a health care aide at Centennial College through night courses while working as a housekeeper at a small nursing home. Hard work was never something to shy away from, Lou says. "I always need to move, move, move," he says, and the first opportunity he had upon graduation for a full-time job was working nights on Maynard's second floor, where he stayed for 23 years. In 2004, he switched to days and has been a fixture in the Bellwoods neighbourhood ever since.
Working with older adults was always something Lou imagined for a career. "Just like a teacher, they want to work with and teach kids, I love to work with the elderly," Lou says. "The way we treat my father and my mom, I want to apply that to the residents who live here. I love them." 
Lou and his sisters and mother supported his father as his health began to decline and Lou still lives with and supports his mother, who at 102 is still living a full life. His grandmother lived to 117, Lou mentions with a smile and wide eyes, so his mother still has plenty of time ahead.
Lou says there have been many changes over four decades of working at Maynard, most notably in how the complexity of care among the residents has increased significantly. The importance of strong relationships and patience, however, remains as important as ever, and Lou is proud to have had the opportunity to mentor many new team members over the years. It is important, noble work that requires a special type of person with a compassionate heart, and Lou hopes more people will consider a role as a future caregiver.
"I really love working here," Lou says, noting that at 62, "I still have lots of energy for work."
It's energy that is fuelled by the connections of an extended family at Maynard, and the small home is happy to have the gift of his presence.