Mar 31, 2020 / Village Voice
Posted by: Kristian Partington
The world is changing before our eyes.
My world is certainly no exception and I've managed to find a few minutes now and again to reflect on the impact of the transition underway in our global community. Perhaps more importantly amid the turmoil, I've considered what has remained the same as we grapple with a global pandemic.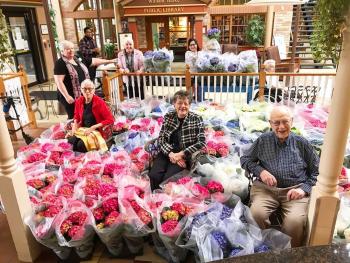 Residents and team members from Humber Heights prepare 
their beautiful gifts for their neighbours. 
For more than eight years, I've had the honour of sharing stories of strength and success from within Schlegel Villages, but some three weeks ago, my focus shifted. I'm now working alongside a dedicated team of people I've always admired to communicate with families, team members and our Village residents as Public Health Agencies, government ministries and Chief Medical Officers amend legislation to support a fearful population and protect the well-being of our neighbours, friends and loved ones. The information and directives are changing by the hour, it seems.
What hasn't changed among all the countless transformations we're inundated with, however, is the generosity, compassion and commitment that has always made the Schlegel Villages family a wonderful thing to be a part of.
The ways we are constantly reminded of this are far to numerous to count, but I'll share a few examples.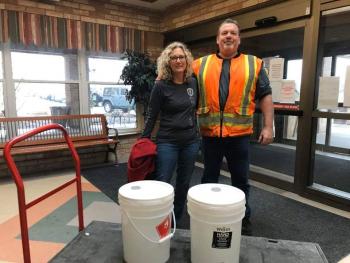 The gift of hand sanitizer from Hiram Walker & Sons to
the Villages of Aspen Lake and St. Clair in Windsor.
Last week, two of our smaller Villages in the heart of Toronto received a gift from friends in The Village of Humber Heights. It had come to general manager Pauline Dell'Oso's attention that a florist in Niagara-on-the-Lake had an excess of Hydrangeas, so she placed an order with European Plants Incorporated. When the flowers arrived at Fairview and Maynard Nursing Homes, the teams and residents there were brought to tears – the gesture reminded them all of the beauty in the world.
"The village is buzzing and humming around as usual and we look up and we see dozens of beautiful hydrangeas, all in full bloom, paraded down our main entrance by two smiling and gracious Humber Heights team members," Fairview General Manager Saurabh Bhatnagar told me afterwards. "There was a moment of pure joy and admiration for the human spirit and for our sense of family support."

A family member offered coffee and treats for the teams 
at The Village at University Gates.
And there were tears of joy.
The Hiram Walker & Sons distillery dropped off pails of hand sanitizer to the Villages of Aspen Lake and St. Clair in Windsor; a bagpiper spent an hour outside The Village of Taunton Mills playing for the Village; later another piper stood before his loved one's home at Glendale Crossing in London to share the gift of music.
Bakeries are offering loaves of bread for our Villages in Hamilton and families are ordering coffee, doughnuts and pizza for team members in several Villages; a new resident named Joe at Tansley Woods shared the gift of poetry with the world through Soundcloud; a community group of friends to Taunton Mills is working toward a shipment of personal protective equipment to share with the team there.
A collection of hopeful messages and stories of kindness shared through social media continues to grow deeper every day, illustrating how even the smallest acts of goodwill and gratitude can overwhelm the sense of grief carried by the reshaping of our world before us.
The power of kindness will never change.