Sep 12, 2023 / Village Voice
Posted by: Kristian Partington
Nari Nargolwalla is a man of the world. He grew up outside of Lahore, Pakistan and, in later life, he came to Canada and settled in Mississauga. His work as an import/export specialist took him all over the world, and he loved to travel and learn from the cultures he was immersed in.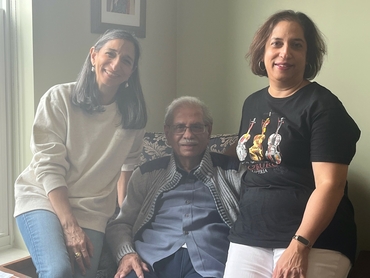 He loves sports: hockey, baseball, tennis and cricket, of course, and he loves his family. His daughters are a point of pride, as are his grandchildren. The memory of his beloved wife of nearly 60 years is close to his heart, and her portrait holds a place of prominence on the wall above his comfortable recliner.
"We were together for 64 years," he says. "She was such a great lady."
Nari smiles easily and is generous in his conversations with others, though now in his 90s his memory has grown a little cloudy. This is one of the more common aspects of the progression of dementia, but it certainly doesn't diminish his kindness and his playful laughter as he recounts stories from his past and his travels.
He's an easy man to speak with and from his small suite in the Egerton neighbourhood of The Village of Erin Meadows, he sits with his daughters, Cyra and Shaan, to talk about their lives together and the path that led to his new home.
In the early part of 2023, Nari's health had taken a downturn as an infection led to a two-month stay in hospital, and his decline was rapid from there. He was able to walk comfortably before illness struck, but by the time he left the hospital he required two people to help transfer him from his bed to a wheelchair. Shaan knew there was no way she could care for him at her home, so Cyra would come to visit as often as possible from her home in France and together they looked for a retirement home that offered the right mix of comfort, care and proximity to Shaan's home.
When they found The Village of Erin Meadows, they knew right away that it was where their father needed to be. Since moving into the Village in May, the turnaround has been astounding, to the point when Shaan was shocked to see him step up out his chair to retrieve something from across his suite as she was visiting one day, only two months after he'd moved in.
"I was in very bad shape," Nari says, shaking his head, "but I'm doing much better now."
It's early August, only a day after Cyra and her family arrived from France for another visit, and as she sits with Shaan and her father, she comments on the difference she sees in him.
"We were really well-looked after here," Cyra says, recalling the first visit they had with Masud, one of the Village's Directors of Lifestyle Options. Not only did they find the Village comfortable, but the care Nari receives has surpassed their expectations and his recovery has been a "pleasant surprise," to put it mildly.
"He gets really good care," Cyra says, and Shaan points out that the care is balanced with a wide array of activities. She says her parents loved to go out dancing, and on a recent sunny day as an entertainer was playing music on the Village patio, Nari was able to get up and dance for a short time.
Only months before, they were expecting the worst and now every day is a gift. Nari keeps a guestbook on a shelf in his suite to be signed by all who visit, and it's filling up quickly. His community of friends is wide and many live near the Village, so the visitors are plenty.
They all comment on how beautiful his new home is and how wonderful it is to see him looking so well.
"This is just such a lovely area," Nari says. "I'm happy to be here."
His contentment is a comfort for his daughters, knowing as they do that he has friends in the Village and a team of people who care for him in many different ways. 
Learn more about The Village of Erin Meadows