Jul 14, 2020 / Village Voice
Posted by: Kristian Partington
In praise of the precautions around visitation
The urge to give her mother a hug has never faded in the heart of Wendy DesChamps; with every passing day as Ontario and Canada continue to show more control over the COVID-19 pandemic, she hopes she's one day closer to that embrace.
Wendy's mother Isobel lives in Emma's neighbourhood in the Village of Winston Park and, like thousands of families across Ontario, she had long been physically separated from those who love her most. When news came down from the province in mid-June that LTC and retirement homes could slowly begin welcoming visitors again, Wendy was one of the first to start the processes of confirming she is negative for COVID-19 so she could sit across from her mother for a physically-distanced face-to-face visit.
There was no embrace, but no tears either – they were just happy to be together.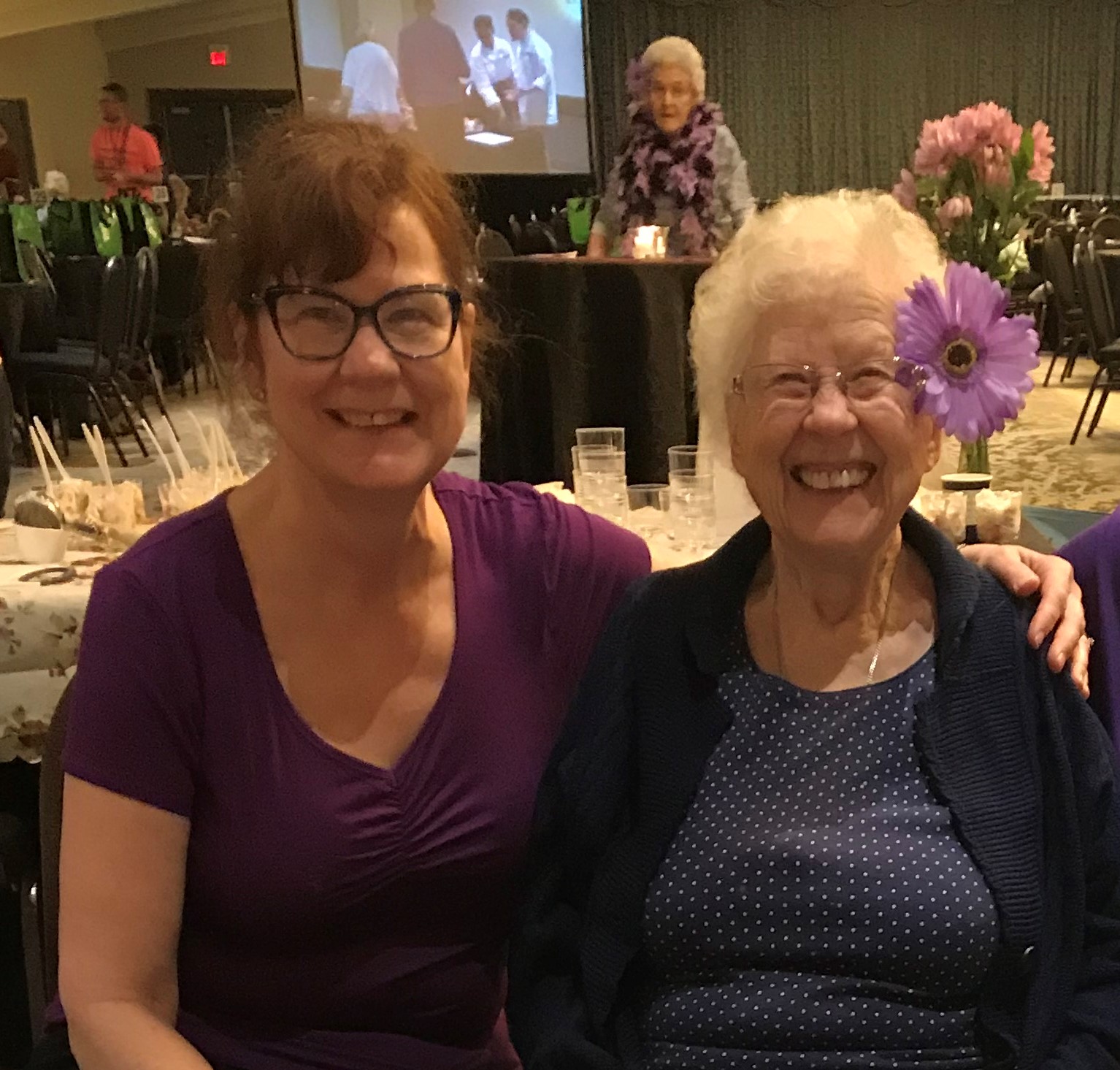 A photo of Isobel and her daughter during the 2019
Pursuit of Passions Event in Kitchener.
"Even through her mask I could see she was smiling," Wendy says, noting that she absolutely understands why such precautions are in place. She may not be able to hug her mother yet, "but I would rather have more precautions than not enough to protect the residents," she says.
Bill Bobier echoes those same sentiments when he discusses the first visits he had with his mother, Lois, who lives in the LTC neighbourhoods at Winston Park. Lois celebrated her 100th birthday in March only a few short days after the visitor restrictions were put in place, and as much as it was nice to celebrate with her via Facetime, the family has longed for in-person visits. That they've opened up somewhat is wonderful, but Bill is grateful the precautions are in place.
"We're seniors ourselves now," he says, "so we're well aware of COVID and well aware of the precautions that need to be taken, so I've felt the rules make very good sense."
He has now been to see his mother twice, and both visits were quite positive experiences, Bill adds. At 100, Lois's highly social way of being has slowed, somewhat, so she has fared quite well during the quiet of the pandemic-driven lockdown.
The face-to-face visits, however, have been a blessing.
Bill is looking forward to the time when he and his brother can visit in the same week or even together, "but I realize that will have to wait," he says. "You only have to watch the news to know that this beast isn't done yet, so I have no problem and I'm grateful for the opportunity to visit and also grateful to the staff – we've done a number of Facetimes before the opportunity for face-to-face visits came about."
The past four months have been difficult in so many ways, but – like so many other families – Wendy and Bill offer praise and gratitude to the Winston Park team for the safety their feel for the mothers. That they must still follow strict government-mandated precautions when they connect in person is no real sacrifice, for the embrace when the time comes will be all the more special.