Cy Ridout, Bob Milley and Harry Halsall, are gathered around the large table in the centre of the Tansley Woods woodshop where they spend a good portion of their time together.
They're inspecting a large plank of hardwood Cy and Bob have just run through the planer, and Harry notices a few deep gouges in what should be a smooth surface. The blade must have an imperfection, they figure. It might be time for a new one.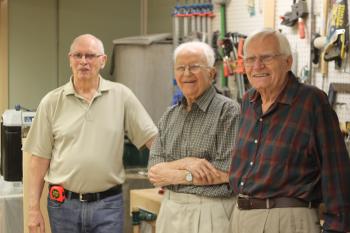 The shop has everything a hobbyist woodworker could ask for, mostly all donated by residents. Two separate drill presses line the outer benches, with the band saw and radial-arm saw rounding out the perimeter, along with the fair-sized joiner. A wall of perfectly sharpened chisels of all sizes begins the collection of hand tools, and the shop stewards around the table confirm they lack nothing, except maybe a few other people to share the space with.
Shortly after Cy moved to Tansley Woods when the retirement neighbourhoods opened in 2014, he approached General Manager Joanna Gurd to ask if the small room off the basement's parking garage could be used as a woodshop, and the answer was yes. The Village is their home after all, so as long as safety is of paramount concern, which it is, then they're welcome to work away.
They make a number of different items, from magazine racks and chests to small wooden toys. Tables at the Village's recent Christmas bazaar were laden with wooden reindeer, snowman statues, candle holders and cutting boards, all created in the shop to help raise funds to put back into The Village.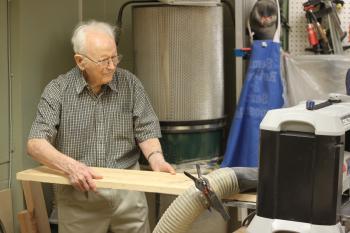 The gentlemen say the projects are fun but there are many days they spend more time in conversation than they do cutting or sanding wood. The social aspect is perhaps the shop's greatest attribute, they agree.
"There are times when not much work gets done," Bob admits, noting that when one of the shop's original founders, Bill, is around "everybody sits down and we talk." Bill no longer does much by way of woodworking, but his legacy remains in the lounge upstairs in the form of a beautiful chessboard upon a pillar and a matching crokinole board.
"I've seen Bill sit here with a piece of sandpaper in his hand and you could practically see your face in the wood," Harry says.
There is friendship to be found among the sawdust, and ongoing learning opportunities make each visit worthwhile. Bob, for example, officially moved to the Village at the end of November, but he'd been a regular volunteer there beforehand and was already quite familiar with the shop. He has a solid background in carpentry, but when it comes to the finer art of woodworking he's happy to learn from others.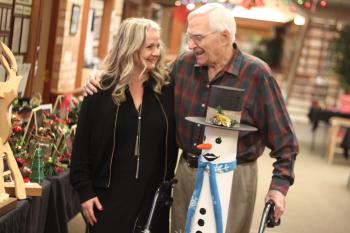 "To me it's an interesting experience because there's a lot to learn from people like this," Bob says, nodding to the friends beside him. "They've both done a lot more than I have in a shop."
He's being modest, the others say, and they banter back and forth a while, singing the praises of their fellow craftsmen.
"This is just about as good as it can get as far as I'm concerned," Cy mentioned earlier as he described the shop, and the friendships and the conversations on display here verify his sentiments most certainly.