May 11, 2022 / Village Voice
Posted by: Kristian Partington
For more than a decade, Becki Lee has given the best of herself to the residents she serves at The Village of Riverside Glen in Guelph, combining her kind heart and quick ability to connect with people of all backgrounds with her clinical skills as a Registered Practical Nurse.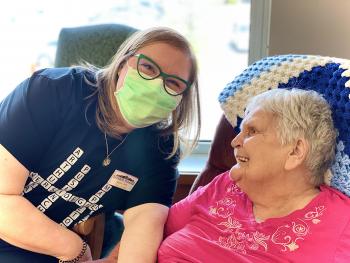 While Becki has proven to be a great clinical specialist as an
RPN, her innate ability to connect with residents and families
is one of her greatest attributes, say those who know her best.
Her Village community and the entire Schlegel Villages organization was thrilled to learn that Becki will be celebrated with one of three Nursing Now Ontario Awards in an online ceremony on International Nurses Day, May 12.
The awards are jointly presented by the Registered Practical Nurses Association of Ontario (WeRPN), the Registered Nurses' Association of Ontario (RNAO) and the Ontario Nurses' Association (ONA), and Becki was the respective PRN chosen from a pool of more than 400 applicants.
For the team at the Village that knows Becki so well, this deserved recognition came as no surprise.
"Becki creates rich and meaningful relationships with each of the residents in her care," says Hubrecht Quist, the Director of Nursing Care at Riverside Glen. "In creating these strong relationships, she is better able to understand the unique needs and preferences of each resident and tailors the care that she provides to improve their individual experiences."
Becki is always willing to help guide students who are learning the intricacies of care and support in Long-Term Care and in doing so, she inspires many future caregivers to consider the rewards of meaningful connection in a role with the Village as opposed to an acute care setting. She has also sacrificed greatly in the past two years, as countless health professionals have around the world, and her quiet leadership in the face of great adversity helped carry the Village through some extremely difficult outbreaks at the height of COVID-19's greatest periods of threat.  
"Despite the additional stressors associated with a COVID-19 outbreak, Becki recognized the need to remain focused on the safety and well-being of the residents in her care and demonstrated outstanding leadership and strength through this journey," Hubrecht says. "I am thankful for the leadership and care that Becki brings with her each and every day."
Riverside Glen's Assistant General Manager Devon Richards has worked alongside Becki in different capacities and has always admired the ease with which she develops deep connections with residents and their loved ones. These relationships deepen over time and are what makes a LTC care environment so special compared to acute care settings, and Becki naturally excels in these authentic bonds.
"She has an innate ability to connect with our residents, families and team members," Devon says. "She brings a warmth to the neighbourhood and ensures everyone feels welcome."
For many across the Schlegel Villages organization, the well-deserved recognition Becki is receiving is one example of the remarkable work hundreds upon hundreds of team members are doing every day.
"Not matter what role our team members play in Village life, getting to know one another well is the foundation of our connections," says Augustin James, Schlegel Villages Director of Clinical Services. "To see Becki, who truly captures this spirit, recognized for her dedication and commitment is something to be proud of, and we thank her and all of our amazing nurses and caregivers for all they do for the residents we're so privileged to serve."