A gesture of kindness and gratitude offered to Dundas residents
By Kristian Partington
 The spirit of the season filled the hearts of residents and team members from Erin Meadows on Christmas Eve when Rahila Ramzan shared her love for those she serves with a gift to match the blessings she receives from them each day.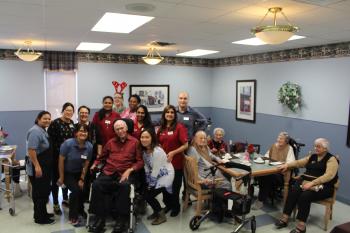 From the minute construction began at the Village of Erin Meadows years ago, Rahila knew she would one day work there. Caregiving is in her nature and to give of herself for the benefit of others is her true calling in life. And yet she says it's the residents who nurture her spirit, so this year she wanted to show them just how much they mean to her with a gift from the heart.
Knowing that for many residents, mealtimes are the most important moments of the day, Rahila decided that each of the 30 residents she works with in the Dundas neighbourhood should have new china and table settings. Out of her own pocket she bought three complete sets for each resident – two for regular meals and one to be used on special occasions, which is what residents saw for the first time at lunch on Christmas Eve.
"When I began working here in 2011, I felt like this was my home," Rahila says. "I was supposed to be here a long time ago looking after these people.
"I was always thinking, 'I want to do something for them,' to give them something they will use on a daily basis for their personal use, each and every person." And this summer, after attending the Pioneer Network Conference and listening to her new friend, resident David Kent, share the story of how his life was transformed after moving to Erin Meadows, she began saving her money and working towards the gift she would give at Christmas.
Her life has been transformed as well, she says, and this was how she shared her gratitude.
"I was missing these people in my life," Rahila says, thinking back to the time before she began working at Erin Meadows. "They are my family. I want to listen to their stories. I want to talk to them and comfort them and when they kiss and hug me and tell me that I'm their angel, I feel so good.
"That's all I need, I don't need anything else."
And so it was that team members and residents in the Dundas neighbourhood came together as family on Christmas Eve, filled with the spirit of generosity and togetherness, thankful for all they give and receive each day. The true meaning of the season filled every new plate on the tables.