Two Schlegel Villages residents stood before The Honourable Elizabeth Dowdeswell, Lieutenant Governor of Ontario, at Queen's Park on Nov. 29 to receive honours for their dedicated service to others.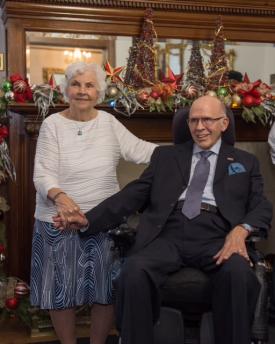 The Ontario Senior Achievement Awards recognize people who have made outstanding contributions to their communities through voluntary or professional activities after the age of 65. Margaret Stinson from The Village of Arbour Trails and David Kent from The Village of Erin Meadows were welcomed alongside 13 others from across the province, each with diverse passions and remarkable energy to be shared with countless others. 
"In this fast-paced and complex world, the experiences and the living memories of seniors can anchor us and in fact remind us of what actually unites us as Canadians," Ms. Dowdeswell said as she prepared to meet each honouree.
"Each one of you has made significant contributions for many years. You've given your gifts as educators, advocates, caregivers, artists and administrators. You've shown great initiative and your generous vision has swept others into your path."
Though she's an advocate and dedicated volunteer in many capacities, Margaret was recognized mostly for her efforts to beautify communities through her passion for horticulture and gardening. The natural beauty of many a hometown has been enhanced through Margaret's keen touch, and her dedication is a gift to many.
"What I admire most about Margaret is her unwavering commitment to take an active part in making her community vibrant, connected and full of opportunity to learn and grow," says Schlegel Villages Vice President of Operations, Joanne Potts.
"She adds so much life to any event or committee that she is part of; she's always eager to participate, to add value or to wear a costume to add some fun to a event. She has abundant energy that is always spent sharing her wisdom and passions, including theatre and horticulture."
Like Margaret, David seems to be more active today than he ever was in his younger years. He has taken his vast experience as an educator and applied it to the transition he made to living in long-term care. Through that experience, he teaches others to reconsider their notions of aging. He's an advocate for his fellow LTC residents across Ontario as vice-president of the Ontario Association of Residents' Councils, he helped create new education streams for young people in the LTC field and shared his story at conferences in both the United States and Canada.
"David continues to be an inspiration to me and many others," says Rose Lamb, also a Vice President of Operations at Schlegel Villages. "He proves that there can be life purpose when you move into long term care and that together we can change this image of nursing homes being a place where people come to die." 
"The changes we face in our lives as seniors are not always welcome," Ms. Dowdeswell said to the 15 honourees, "but you've shown us how they can give rise to new possibilities and valuable perspectives.
"You are resilient, relentlessly dedicated, and quite remarkable."