Sep 03, 2019 / Village Voice
Posted by: Kristian Partington
John Ryan has always been a motorcycle enthusiast. The first bike he ever owned was a Yamaha Verago and he loved to feel the wind in his face as he took to the open road upon the rumbling machine. He jokes that he couldn't fly an airplane in the air force because he couldn't pass the eye test, so he got the motorcycle to "look cool," and he would buzz around upon it with no helmet.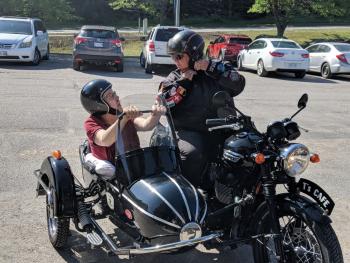 Thanks to Teresa and the Senior Wish Association, John was
able to feel the wind upon his face again.
It's been some time, however, since he felt the freedom of a motorcycle, and the team at Coleman Care Centre where John lives decided to change that with the help of Barrie's Senior Wish Association. The association happened to be meeting in the Village not long ago and John, always the greeter welcoming guests as they arrive, struck up a conversation with a woman named Laura. His passion for motorcycles somehow came up in their talk and that's when the formation of a plan began; Laura's wife Teresa is also a motorcycle enthusiast who happens to have a bike with a sidecar, and she was kind enough to take John out on a sunny August afternoon.
It felt good to have the wind in his face again "and the bugs in my teeth," he jokes.
John and Teresa cruised through Barrie's downtown and along the Lakeshore, and his gratitude shines through as he relates the story with two thumbs up to show his approval.
"To say that there were lots of watery eyes watching the smile on John's face when he was riding off with Teresa is an understatement," says Coleman Care Centre's recreation director, Karen Andrews. She and John both want to thank the Seniors Wish Association for helping make the day memorable, and their sincerest gratitude goes out to Teresa for sharing her time and enthusiasm with John.