Jul 26, 2022 / Village Voice
Posted by: Kristian Partington
For nearly 25 years, Ging Hum and his wife Lisa ran one of Guelph's signature restaurants, Friends in our Kitchen. Regular guests will say the atmosphere lived up to the name, as the relationships that developed were far more than that of restaurateur and patron; when guests arrived, it was almost like family members reconnecting over drinks and plates of delicious food.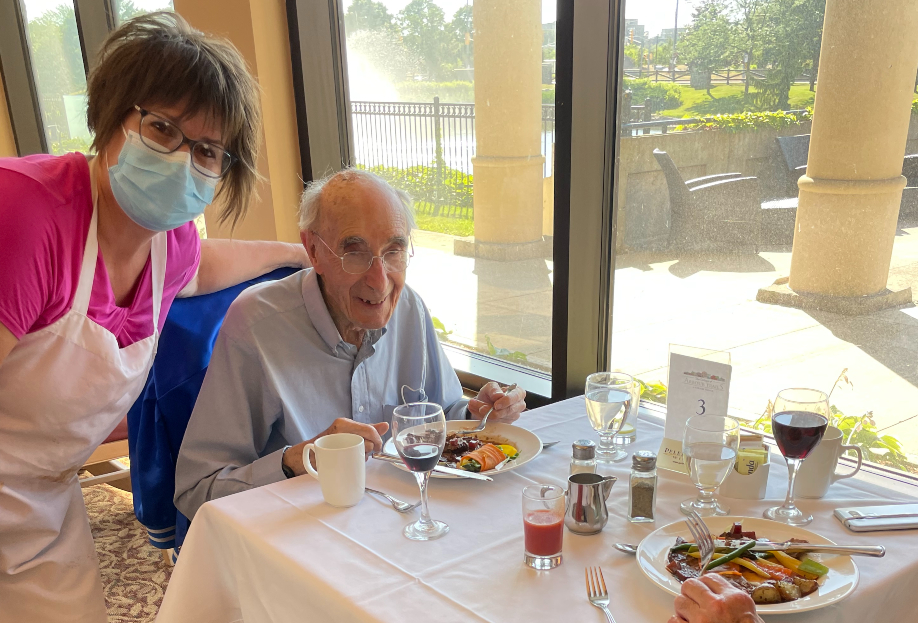 "My husband and I never went to any other restaurant in Guelph," says Monique Kane, a resident at The Village of Arbour Trails who on a Friday afternoon in late July is looking forward to Ging and Lisa's special menu being served in the Village dining room. "When we had company, we were always so happy that when they came back, if we talked about going to a restaurant, that was their choice."
Her husband always went for the braised lamb shanks, Monique says, and she never once had a bad meal in all her many years visiting Friends in our Kitchen. Ging unfortunately faced some health challenges that forced the couple to close the restaurant in 2017, but their love of hospitality remains as strong as it has ever been and, thankfully, Ging is as well as ever.
Like so many of the residents of Arbour Trails, Monique was excited to learn that Lisa and Ging were sharing the kind gift of their time to serve a special meal. Lisa, who worked for a time as a hospitality supervisor at Arbour Trails and now works part-time as a screener, says like the patrons of her restaurant, the Village residents offer her the greatest enjoyment in her work days. It was for them that she and Ging wanted to offer their service on this July evening.   
Hospitality, says Ging, "is in my blood."
He grew up in working in his family's rotisserie in Montreal's Chinatown, and today he works as a chef with the University of Guelph, where Lisa also has a part-time job in a small coffee shop.
She loves the students and the ease of the work, she says, but she'll always have a soft spot for the residents of Arbour Trails. She and Ging have been planning a guest evening in the Village for months now, alongside hospitality director Shannon Holmes, and the timing aligned for July. For days prior they've been in the kitchen prepping and for the evening meal, they're preparing Shitake Mushroom Chicken, Roasted Beef with Beets, Asparagus/Carrot/Pepper Bundles, Ging's Signature Egg Rolls, Roasted Potatoes and French Crème Tarte.
"I think it's very generous on their part," Monique says, considering the time and effort put into the special meal. "I'm sure everybody who had a meal at their restaurant will be very happy."