When Mary-Lou van der horst asked nearly 300 people on Day 1 of the annual Schlegel Villages Leadership Retreat to raise their hands if they were graduates of the Leadership Program for Long-Term Care and Retirement Living, a vast majority responded affirmatively.
"Whoa," she responded. "That's a lot of papers I had to mark."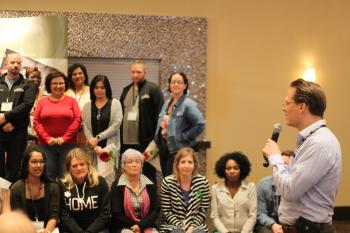 Schlegel Villages and the Schlegel-UW Research Institute for Aging originally created the intensive leadership training program as a tool to develop the skill of potential leaders within the organization. In 2013, through partnership with Conestoga College, the program expanded and has since been shared with organizations across the country.
Mary Lou has been there virtually from the beginning, and she was at the retreat in early April to honour the most recent cohort to graduate from within Schlegel Villages. Mary-Lou's fellow instructor, Jane McKinnon Wilson, would honour another cohort on Day 2.
"Their dedication and passion and commitment to the field of aging is remarkable," Jane said during her remarks as she prepared to introduce each graduate. "Whoever chose the group that we had, you should give yourself a pat on the back because you do great recruitment."
In fact, the students are chosen from within each village based on their potential to help meet the future needs of the growing organization. Some are already in leadership positions and the program expands their knowledge and understanding of core leadership principles, while others are offered the opportunity because the team sees in them great possibility for the future.
Schlegel Village president and CEO Jamie Schlegel spent time with each cohort in the beginning of the in-class sessions, and he addressed them all on the final day of the leadership retreat.
"I came away from my time with these folks feeling enriched, educated and inspired," he said, "and I'm quite sure that in this case I got more out of the sessions than the students did. It shows the depth and quality of the people in this course.
"As we grow," he continued, "we're going to be relying on these folks to lead the way as we expand our mission further and deeper across Ontario, and I'm so immensely proud of each of these leaders and incredibly confident that as we grow we'll have the capacity to do it, not just with the skills of leadership, but with the heart of leadership."
For more information on the Leadership Program for Long-Term Care and Retirement Living, visit the RIA website here.