Nov 07, 2019 / Village Voice
Posted by: Kristian Partington
Harry Malcomson was an army cook stationed in British Columbia at the end of the Second World War. His specialty was soup, he says, and in the general mess hall he served countless iterations of it to hundreds of soldiers, many of whom were returning home from their time as Prisoners of War in the Pacific Theatre.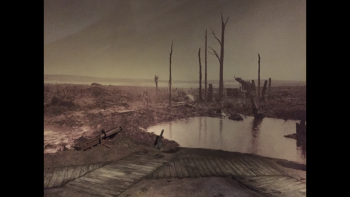 A photo of the Passchendaele exhibit at The Canadian
War Museum. No veterans of The Great War
are alive today, but their efforts will never be forgotten.
The wisdom he gained from his time in service made him "appreciate life more," he says, and as he prepares to mark Remembrance Day in his Village on Nov. 11, he honours all veterans for helping him gain and hold onto that important sense of appreciation. Today he says he directs much of that appreciation to his wife of 68 years, Betty, for she has always been his "greatest support."
Across Schlegel Villages, residents, their loved ones, volunteers and team members are focused on this important time of remembrance. Several took time recently to share their feelings and reflections on the men and women who chose then and still today to risk their lives in the service of others.
"I honour those who have given their lives and those who have joined the service to protect others," says Robert Crouse, who served in the Korean War and along the Gaza Strip under United Nations command. "Fighting in a war, your life is at stake and your next day may not come. The sound of a bullet missing you can be eye-opening, and it changed my outlook on life."
As time presses on, remembrance takes on new meaning, in a way, for the faces of our veterans and their history of service continues to change. The message of gratitude and respect, however, must never be altered nor forgotten. The last known Canadian veteran of The Great War died in 2010, yet our connection to that terrible time remains strong in the memories of those soldiers that have passed to new generations. The veterans of the Second World War grow fewer and fewer as well, and the veterans today who are the humble face of our collective image of heroism are more likely to have served in places like Korea, Kosovo or Afghanistan. While they may not have lived through the terrible bombardments of The Somme, Passchendaele or Dieppe, their service is worthy of our greatest reverence and on Nov. 11, Schlegel Villages will remember.
"War provides little amounts of light compared to its darkness," says Marilyn, a resident from the Village of Aspen Lake. "Future generations need to find ways to prevent so much human sacrifice. One life is just as valuable as the next and there needs to be a greater strive for world peace, before it's too late."  
Marilyn's thoughts will be on the minds of many when the silence hits on Remembrance Day.