Oct 10, 2018 / Village Voice
Posted by: Kristian Partington
Schlegel Villages couldn't resist taking part in the 50th anniversary celebrations of North America's largest Bavarian festival with a parade float in the Kitchener-Waterloo Oktoberfest Thanksgiving Day parade Oct. 8.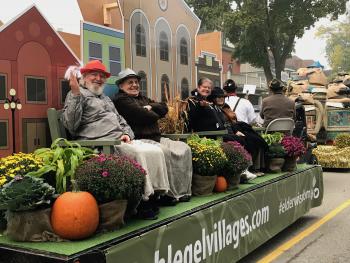 Residents, families and team members were happy to
be part of the 50th KW Oktoberfest Thanksgiving Parade.
The skies may have opened up damp and heavy, but spirits were high as the parade wound its way north from Kitchener along Weber Street into Waterloo. "Nobody can help the weather," says Marianne Weyer with a laugh. Marianne lives in Waterloo's Pinehaven Nursing Home (part of the Schlegel Villages 19-village family), and was happy to be part of the experience, she says, despite having to walk a little more than she expected at the beginning and end. At 83, this was the first parade she'd ever participated in, and says she loved seeing all the children upon the floats and along the route smiling and waving to them.
She says Oktoberfest seems more like it's geared towards younger people, but it's still important for older folks to get out and join in the fun.
"I try to participate in whatever I can," she says.
Residents and family members from The Villages of Riverside Glen in Guelph and Winston Park in Kitchener also represented Schlegel Villages, along with team members from Support Office and as far away as Toronto.
The group was proud to share the #ElderWisdom theme with parade-goers, reminding everyone of the wealth of experience and knowledge held in the hearts and minds of seniors, urging people to spend time with their elders and connect with that treasure trove of wisdom.
Mike Schmidt, director of community integration at Schlegel Villages, was happy to offer the music, courtesy of the band he's long been part of, the Ayr-Paris band. Knowing there was no way to connect some 40 musicians to the float, he chose to record their latest rehearsal, blast the music through a sound system, and play alongside with his wife.
"We had such a good time," Mike says, noting he loved the smiles upon residents' faces as they interacted with children along the parade route.  "You could see it in the crowds – the residents were all waving and everyone was waving back. There was an engagement between the float and the seniors and the crowd."
Marianne, who is from Germany, was singing along to the polka music he was playing, he notes, and the energy she provided was offered to the waving crowds 
The entire parade route was packed, and the #ElderWisdom theme seemed to resonate with everyone. Age, after all, is simply a number and everyone loves a good parade.