Mar 19, 2019 / Village Voice
Posted by: Kristian Partington
Four generations converge along Main Street in the Village of Erin Meadows on a bright Thursday afternoon. A toddler is in the arms of his grandmother beside his mother watching from nearby, and he catches the eyes of two other ladies out for a stroll after lunch. They all start chatting away in the middle of the street.
It's a scene that plays out again and again in villages and small towns the world over: the natural meeting of people on random sidewalks inviting the chit chat of small talk and the admiration of a child's bright, inquisitive eyes.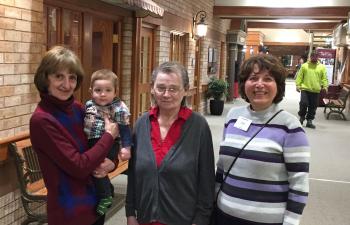 It's natural for volunteers, residents and families to connect
along Main Street at Erin Meadows, as in any small town. 
Everyone in this group has a connection to the village – the child's great grandmother lives in long term care, just down the street from where they stand now, and they've just enjoyed a visit over lunchtime with her today.  Since the retirement neighbourhoods opened in late February, they say it's nice to take a quiet stroll through the wider spaces of the village after lunch.
The two ladies they chat with agree.
One is a resident from long-term care; the other is volunteer Theresa Fontaine, a retired schoolteacher who for the past two years has offered her time to residents at Erin Meadows who don't have many other visitors. Theresa enjoys the one-on-one visits, she says. She has great respect for the lives of her elders, and appreciates every opportunity to learn more from them.
"I don't just see who they are at this moment in time," she says. "I see all of the pages that are behind their story."
Theresa had the opportunity to share her views on Village life with the new team members of the retirement neighbourhoods during their intensive orientation process shortly before opening. She joined a resident, family and team member from the Long-term care home for a panel discussion, and she was honoured to do so. It was a chance to be a deeper part of the integration that makes Erin Meadows and the other Schlegel Villages that have married long-term care with the wider retirement continuum so special; it truly is one village and life here is made up of moments.
"No matter what kind of an illness a person suffers from," Theresa says, "there are always moments when you really feel you're seeing them as they would be if they weren't stricken with the illness." Team members honour those they serve when they respond in each moment to a need presented, even if only for a bit of reassurance to let someone know they matter.
Theresa says she likes the possibility of residents in retirement contributing as she does in the lives of their neighbours, and that possibility will certainly be encouraged here as in all Villages. This is a place where everyone is welcome and their contributions are honoured, a place where a conversation among strangers on Main Street is as natural as it is friendly in the mind of a bright-eyed child.