This is the time of year when generosity of spirit is at its height and everyone is a little more inclined to give of themselves to honour their loved ones, neighbours and their community. It's also a time to be grateful for the people who carry this kindness in their hearts throughout the year, people like Leona Sobie, who has lived at the Village of Aspen Lake for just over a year.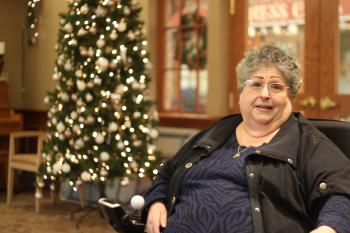 Leona comes by her compassion honestly; it was passed down from her mother and two aunts who all held a deep sense of faith and spirituality.
She recalls being hospitalized at the age of nine in a ward with people of all ages in all stages of illness. There was an older woman there who Leona was drawn to, and she walked to the old woman's bedside, touching her forehead gently. The woman's eyes opened and looked to Leona's before she spoke.
"Are you my angel?" she asked and Leona only responded with the kind touch. The woman passed away that night, but the connection remains with Leona, decades later.     
Leona says her personal sense of determination and her faith has helped her through the hardest of times. She raised two children alone after becoming a widow at far too young an age, and though the cupboards were often barren, there was always something to share with a neighbour in need.
"My faith teaches you to be strong, to be the best you can be and don't give up," Leona says. "It teaches to persevere."
When she came to Aspen Lake, Leona was unable to walk but today, after a mid-December conversation in the chapel, she can be seen walking along Main Street as part of her quest to grow stronger every day. If she is strong, Leona contends, then she has more to give to others around her.
"Sometimes it's just an ear for someone," she says, when asked what sort of support she offers to her neighbours in the village. "If they're feeling down you can try to bring them up a bit; anything to bring up their sprits and laughter is a healer."
Sometimes that support means sitting at a bedside to recite the rosary for a neighbour or reading the diary of Mother Teresa. She offers a comforting voice or touch to assure someone is not alone with time waning upon this earth; it seems Leona today is not unlike that little girl of nine-years-old she spoke of in the chapel, and The Village is glad to have her. 
Offering support for others lifts Leona's spirits, she says, "because then you're not just sitting and looking at your own inabilities. When I see somebody hurting I want to go there and help to see if I can relieve some of the pain that they feel."
"We're here for only a short time, so why not give and enjoy," she says.