Feb 27, 2020 / Village Voice
Posted by: Kristian Partington
As images of fiery inferno spread from Australia to every corner of the planet in late 2019 into early 2020, Linda Wilson was among many in The Village of Winston Park whose heart wept at the sight of weary firefighters, fearful families and hundreds of thousands of animals fighting to survive the devastation.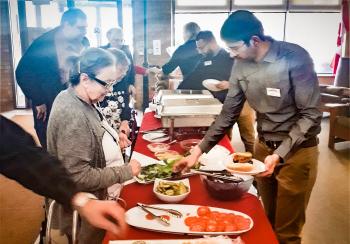 Team Members and residents at Winston Park enjoy
a fund-raising, Australian-themed Barbecue. 
It wasn't long ago that Linda was in Australia visiting her granddaughter Heather and her husband Ian on an extended vacation. It was a hard bit of travel to get there, she admits, for she's now into her 90's, but when she arrived she loved everything about her granddaughter's adopted home: the beautiful Jacaranda Trees in full, majestic bloom; the mesmerizing and solemn Australian War Memorial in the capital, Canberra; the soft sand of the beaches. Perhaps most of all she enjoyed the overwhelming kindness and generosity of the people she met there.   

Linda and Heather together in Australia. 
So, when the Winston Park team launched a series of fundraising efforts in the first part of 2020 to support fire relief for Australia, Linda was happy to get involved. She had mementos from her time at the late Steve Irwin's famous Australia Zoo to donate and she was proud of the Village in its efforts to raise more than $1,800 to support organizations helping animals affected by the disaster.
Between Jan. 20 and Feb. 13, the Village hosted a series of events, from Aussie Pub nights and Crocodile Dundee screenings to a full Aussie Barbeque, complete with burgers topped with pickled beets and pineapple.
Recreation director Rebecca Harnock says residents and team members throughout The Village have not only enjoyed discovering a faraway land that in many ways is similar to Canada, but they are also proud to support a cause close to so many hearts. 
Winston Park is like that with so many causes, with team members always eager to help out. Susette McGrath, who works with the dietary team, is just one example of this generosity at work, for she's always a part of every effort and the fire relief was no exception. People simply wanted to be involved, Rebecca says, and The Village raised nearly double its initial goal of $1,000 as a result.
"We have so many animal lovers in the village," Rebecca says, "residents that have had pets in the past and team mates that have pets now. I think we all felt that we needed to support these poor helpless animals, and we also knew of a few residents like Linda who had travelled to Australia in the past or had family there."
"They felt a connection to what was going and wanted to help in any way they could."
The area outside of Brisbane where Heather and Ian live may not have been affected by the bushfires, but the country Linda enjoyed so much was drastically changed by the catastrophe. She, and the entire Winston Park family, were eager to show support.