Jul 09, 2020 / Village Voice
Posted by: Kristian Partington
When the threat of COVID-19 came across Canada's borders and health officials decided in March that extraordinary measures must be taken, people across the country were asked to make great sacrifices. Indeed, perhaps no greater sacrifice was made than that of the residents of long-term care and retirement homes and those who love them.
Homes were locked down, meaning only the most essential of visitors whose loved ones were facing a critical change in health could enter. When it became clear that this would not be a simple week or so, but a prolonged period of separation, creativity was critical in finding ways for people to connect. iPads proliferated to facilitate virtual visits and many a senior received crash course lessons in WhatsApp, Facetime and Zoom calls. Window visits sprang up and teams did their best to connect people in any manner they could. For many people, this was at least enough, but not everyone could take advantage.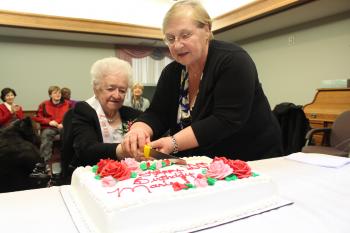 Before COVID-19, Donna and family would visit Marie at least 
weekly. This picutre was during Marie's 100th birthday celebrations
three years ago. Though things have changed so much, Donna 
shares how they are still making the most of every moment.
Donna Durand's mother-in-law, Marie, is 103 and living at The Village of Erin Meadows. Like many residents, she was used to seeing her loved ones at least weekly. They'd play cribbage or simply sit in her suite and chat. When those visits stopped, she didn't quite understand why, and Donna could sense she was sad and lonely, despite the team's efforts to support her. Video chats helped, as at least the family could see Marie, and it was during one of these chats in late June that they and the team member supporting Marie noticed Marie's face seemed to droop on one side and her eye struggled to close.
After the call they immediately connected with the nurse on duty and with the recreation team member still beside Marie, they did a quick assessment for a stroke. The only way to know for sure, however, was to take her to hospital for a cat scan – a daunting prospect for a lady of 103 years, as COVID-19 prevented a family member from joining her. They decided not to send her and the Village kept a close eye on things; Donna says she is grateful to team member Daniel for his call and update after his shift and first thing the next morning.
"It was frustrating for us not being able to go and be with her," Donna says. "We felt helpless."
The Village leadership team got involved and the next day, Assistant Director of Nursing Donna Dalupan called to update the family and they were told two people could come to The Village to visit, one at a time. "Of course, we jumped at the chance to see Mom," Donna says.
Joined by her brother-in-law, Chris, Donna arrived at the Village shortly after 1 pm. They were met at the door, passed all screenings and shared their recent negative COVID-19 test results.
"We were given masks to wear, face shields, gloves and a robe to wear," Donna says. "We were instructed not to hug, kiss, hold hands and to social distance while we were in the room with Mom. We had to visit one at a time but we could stay as long as we wanted to."
The precautions were many, but the visit was so important: "I feel like we won the lottery just to have that time with her," Donna says. The timing worked well, for Donna was able to participate in a call with the Village physician and nurse Donna to discuss Marie's condition, as well as any plans moving forward.
"That visit was wonderful because I could see her in the flesh and reassure her that we all wanted to see her and be with her and how much we love her," Donna says. "Having the conversation with the doctor and Donna about Mom was good because we know that we are all on the same page."
The only thing she missed was a gentle hug; "We always hug when we see her and she was a little surprised that I didn't hug her," Donna says
Erin Meadows has since come out of outbreak surveillance, which means family visits have resumed once again, albeit with precautions in place. They still won't be able to hug right away, but Donna and all of her family are grateful for all the time they can get. That the team deemed a visit essential in the face of a critical change in health for Marie meant the world to everyone, and they have since visited upon the patio now that measured visitation has resumed.
"We are grateful Marie is in a Schlegel Village," Donna says. "The Village of Erin Meadows has done everything in their power to control the spread of the virus and keep residents safe." The pandemic hasn't been easy on anyone in such situations, but there are examples in every Village of coming together to make the most of difficult times; thank you to Donna for sharing hers.  
---
Learn more about The Village of Erin Meadows