By Kristian Partington
During a panel discussion at Schlegel Villages annual operational planning retreat in October, five panelists representing residents, families and team members were asked to describe a day in the village that stands out in their memories a special.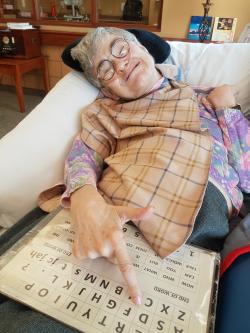 St. Clair general manager Julie D'Alessandro told the story of a spontaneous snowball fight between team members and neighbours (residents) that broke out on a snowy February morning. An inspector from the Ministry of Health and Long-Term Care happened to be visiting that day and as the inspector stood at the window watching neighbours and team members pelt each other with snowballs, Julie thought of how great it is to be in an environment that encourages such spontaneity. "It was one of those really candid moments when you walk away and you think, 'this was awesome,' " said Julie.
Pat Robinson and Bob Paul were among five panelists sharing their  
views on village life with attendees at Operational Planning, 2016.
Family member Ernie Ilson also spoke of spontaneity, describing a random Motown dance party that broke out in the neighbourhood at the Village of Erin Meadows where his wife lives. The smiles upon the faces of residents as they moved to the music alongside team members is something Ernie will never forget.
Theresa Deslauriers and Pat Robinson chose to talk about firsts. As move-in coordinator at the Village at University Gates, Theresa remembers welcoming the first resident into the village and watching her face as she met all the team. "It was overwhelming, it was special, it was groundbreaking," she said, adding that the happiness she felt then is something she tries to relive at the beginning of every shift.
Pat can relate. "The day I enjoyed the most," she said, "was they day I arrived at Riverside Glen. I've been very happy ever since. I got involved in everything." Among the many activities that keep Pat busy is the welcoming committee that she helped create, offering her the opportunity to help brighten the first days of others. Hers is now one of the first faces new residents see when they arrive at their new home.
Bob Paul, president of the residents' council at the Village of Arbour Trails, chose to describe what he called "magic moments" that often occur around dinner many evenings. A fellow resident is a former music teacher who still plays the piano beautifully, Bob explained. "She comes down to our piano at dinnertime and starts playing music that we, as residents, all recognize," he said. "People just collect themselves around the piano and it's just a beautiful kind of atmosphere."
As the panel shared their stories the audience was reminded that "magic moments" happen every day. Amid busy schedules and the demands upon caregivers' time, it's important to make note of the special moments and honour their power by sharing their impact with others.