The 'prom-posal' surprise for student Emma Andrews
By Kristian Partington
The day of the 'prom-posal', Grade 12 student Emma Andrews arrived as she does most every afternoon for her co-op placement alongside kinesiologist Victoria Raimundo at the Village of Taunton Mills in Whitby. Instead of heading to the fitness centre, however, Victoria sent young Emma all over the village to deliver some sort of notice or paperwork, neighbourhood by neighbourhood.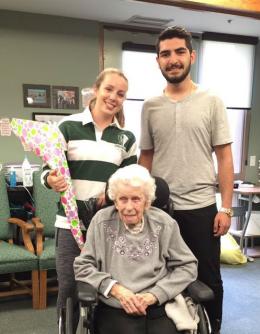 This was the distraction – part of the ruse to keep her out of the fitness centre so her friend from school, Ramtin Habibi, and a resident from the village with whom she's grown close, Laura Ashman, could surprise her.
"When I came back, Laura just had these flowers and this card," Emma says with a laugh. "I was like, 'Okay, they are just there, this is an ordinary day.' " Then she skimmed the writing in the card and saw the word 'prom' at the end of the message. When she turned around, there was Ramtin walking in the room.
"I don't even know how to describe it, I was just really happy and Laura was just sitting there smiling."
There was a bit of romance in the air, for sure, and Laura was happy to help make it happen, though she fills the room with laughter as she retells the story wondering why Ramtin couldn't just do the proposal himself. 
But as for Emma, "well, I thought she was a cute kid," Laura says. "I thought it was nice when she got the flowers and I hope they enjoy life."
Emma laughs when asked if Laura might think the proposal was for a more permanent commitment. Really it was just to mark a rite of passage for high school students preparing to move on to the next stage in life and she and Ramtin had a wonderful time together, she says.
Now she looks forward to finishing her final exams and preparing to study practical nursing in the fall. Her time at Taunton Mills these past few months, working alongside team members like Victoria and residents like Laura, has taught her about the importance of relationships in the field of nursing care and support. She's always leaned towards nursing as a career, but never really considered the skills that make a nurse strong beyond the clinical.  
The thought of working with seniors never really crossed her mind, either, but now it's something she will certainly consider as she looks towards the future.
"To me, it's very beneficial," Emma says. "It's nice for me to come here every day – I love, love coming here so I might actually consider (a career in long-term care) more than I would have before."
Victoria says that Emma has a bright future in service of others, possessing the rare quality in a young person to know what to do in many situations without even asking.
"She brings in that young, excited flavour," says Victoria about her young student.
"She wants to learn about each resident and how she can help them with their physical abilities and their functional abilities."