Published resident finds inspiration in the people around her
By Kristian Partington
Margaret Santos has been writing poetry since she was a little girl in elementary school and now her poems can be found in two separate, recently published poetry collections.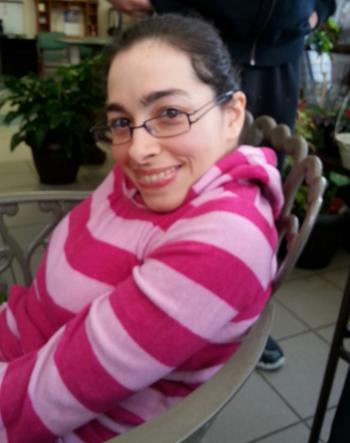 "I find it very healing, emotionally as well as physically, to express myself," Margaret says via email. Verbally, it can be a little difficult for some people to communicate with Margaret, but through the written word her thoughts are beautifully clear.
"Words are courage put into action," she says. "There is something very satisfying about taking pen to paper or sitting at a computer and typing something, either for yourself or to share with others. It's yours; it's your ideas, your thoughts, your words, and once you put down on paper it's final."
Margaret makes her home at The Village of Erin Meadows in Mississauga where she's able to access the physical supports she needs. She's one of the youngest faces you might see living in a long-term care environment, and that offers a unique perspective on life in the village.
She's open about the gratitude she feels for the team at the village, and counts many among its members as key to her support. When it comes to encouraging her gift for language, however, she points out assistant director of nursing care Alisa Anguine and Ward Clerk Venestus Burke.
She finds inspiration in the relationship she has with them, she says, making note of the fact that more than once they've suggested she should consider writing a book.  To Alisa and Venestus, "I would says thank you for your continued support, for the encouragement, for your ability to care about me the way you do and for always believing in me," Margaret says.
It was last summer when Margaret came across a poetry contest offered through The Poetry Institute of Canada. She submitted a few of her poems, one of which was based on her respect and gratitude for the caregiving professionals around her. "Low and behold, I was chosen as an honorary winner and two pieces of my work were published in not one but two of their books," she says.
She now has her sights set on another contest running this summer, and she's hopeful that one day she will be able to attend a poetry course that caught her interest not long ago.
For now, she simply continues to observe the world around her, looking to catch a bit of a spark to prompt her next piece, either in the details that affect her life on a daily basis or in the inspiring people she's around each and every day.