OLTCA recognizes two Glendale Crossing team members for leadership
By Kristian Partington
 There are 629 long-term care homes in Ontario where more than 76,000 people are cared for and supported by tens of thousands of care partners and volunteers. Considering the numbers, it's no surprise that when two of these care partners from the Village of Glendale Crossing were recognized for their leadership by the Ontario Long-Term Care Association (OLTCA), the general manager who works with them every day was beaming.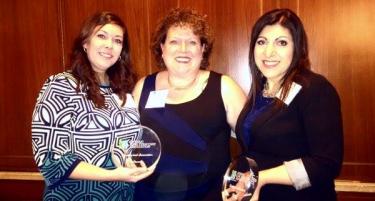 "I'm so proud of these ladies," says Michelle Vermeeren as she considers the OLTCA Nursing Leadership Award presented to Michelle Wood and Hiam Elabd's Personal Support Worker Leadership Award. "We're talking about leadership within the ranks of all those who work within long-term care, and not just formal leaders but those who are taking initiative within our neighbourhoods."
It is the direct care partners who have so much impact on the lives of those they serve, and their example inspires their teams day in and day out, Vermeeren says, noting that both Michelle and Hiam were nominated by their peers.
"In the last five years, Michelle has grown so much in her leadership abilities," says Vermeeren, as she describes the nursing winner. "She is a person that people trust, so family members, residents and team members, they all look up to her. When you talk with her you see a person with compassion, knowledge and competence."
Michelle is part of the ethics committee and she's a mentor to new team members. She is also part of the Personal Expressions Resource Team, which focuses on creating a stronger support system within the village for people living with dementia. 
Like Michelle, Hiam is helping guide the village's direction as a volunteer with various committees, including the "Dream Team," which is responsible for designing the continuous path towards a new culture of aging. She has attended The Pioneer Network Conference, the largest conference in the world dedicated to changing the culture of aging, and with the knowledge she gained there, the PSW quietly mentors others, humbly inspiring them to be part of the new direction of long-term care.
"When we have new people come in, we want Hiam to help them, we want her to teach them the ways of Glendale Crossing and the ways of Schlegel Villages," Vermeeren says. "She is our ambassador, she's fantastic, and the thing is you can just tell, with both Hiam and Michelle, that they love their people and they're proud of what they do and they work so hard."
And yet they are so humble, Vermeeren adds; to be nominated by their peers was recognition enough, they said, so to receive the additional honour of the award was a genuine surprise.
After the OLTCA's gala evening and awards ceremony, the ladies from Glendale Crossing shared a car with Ron Schlegel, the man who founded the organization they work for. During the ride back to London, Ron asked the winners why they felt they were recognized and Vermeeren says it was difficult for both Michelle and Hiam to step outside of their own humility and articulate their own strengths.
Perhaps that's what makes them so strong. They offer the best of themselves each day without a second thought; working with a genuine compassion that inevitably rubs off on those they share space and time with.