Apr 29, 2021 / Village Voice
Posted by: Kristian Partington
Schlegel Villages has been recognized for leadership and innovation in the field of Human Resources service delivery and workforce management solutions thanks to the organization's rapid and creative responses to the unique HR pressures of 2020. The organization was presented with the HR Transformation Innovation Award at the end of April by Ultimate Kronos Group, a Global leader in Human Resources solutions, recognizing the best in its customers' use of its technology and platforms.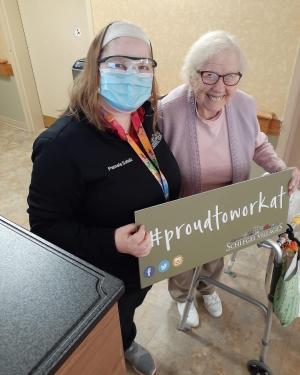 Discovering the team members who we are proud 
to have in our villages is an ongoing priority. 
"An Innovation Award is the highest honour UKG can give to our customers," said Bill Hicks, chief relationship officer at UKG. "These customers demonstrate how our platform delivers a best-of-breed enterprise solution, and we appreciate their focus, hard work, and commitment to using HR technology to accelerate business outcomes and provide exceptional experiences for their people."
At Schlegel Villages, it has always been about people, and the pandemic forced an intense focus on strengthening current teams and finding new people to fill the gaps that were created by circumstance.
When COVID-19 struck, perhaps one of the greatest challenges faced by seniors living providers was in the realm of human resources. As case numbers rose, people grew fearful and, for a number of reasons, some team members had to make the difficult choice to not come to work. During the first wave, Schlegel Villages alone lost 35 percent of its workforce. They may have been caring for at-risk loved ones at home or they contracted the virus themselves; regardless of the reasons, maintaining staffing numbers in order to support residents in the face of great risk was a critical priority.  
By pivoting quickly with UKG UltiPro Recruiting and Onboarding tool, which had only been in use since early January, Schlegel Villages was able to centralize recruiting and onboarding efforts for its 19 Villages, leaving the leaders in each Village free to focus entirely on serving residents.
"Our top priority has always been providing the best support possible for the residents we are so proud to serve," says Christy Parsons, Vice-President of People at Schlegel Villages, "and we do that because we have strong, dedicated teams in our Villages. Still, when COVID struck, every healthcare provider in the province was facing massive challenges in Human Resources, and I'm grateful we were able to respond in real time."
There were certainly difficult stretches of time throughout the year, Christy admits, but she cautiously notes that staffing numbers across the organization are comfortably stable as the second quarter of 2021 unfolds amid a crushing third wave of the pandemic in Ontario.
"That is, in large part, thanks to the collective efforts and creativity of our People and Payroll teams in the first and second wave," Christy says. "Recruiting the best in care providers is an ongoing, never-ending effort and we know that all we've learned this past year will carry us forward as we look to continually be better in all we do."