By Kristian Partington
Hung upon the wall inside the entrance to the Village of Riverside Glen hangs a photograph that, in its simplicity and beauty, captures the purest form of love between a mother and son. It was donated by Doug England as a gesture of gratitude for the care his mother, Grace, received during the short six months she called the village home.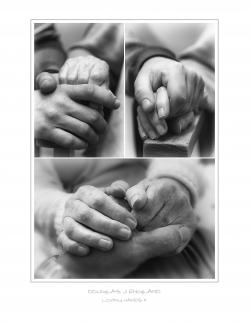 Doug took the photo nearly two years ago. He'd been in a state of self-reflection in the weeks and months prior, noticing of all things the fact that as time went on, he recognized his father's hands in his own. It had been nearly ten years since his father's last breath, and Doug wished he'd thought of the connection in their palms and wrinkles earlier. He would've sketched a picture of their hands together, maybe, or taken a photo.
When he visited his mother a short time later, she reached out and held his hand and in that moment, he found a simple image to represent their bond for all posterity's sake. He grabbed his camera and snapped the shot. Later his two sons would clasp their grandmother's hands, capturing the span of three generations the same way.
That Grace came to live at Riverside Glen was a blessing borne out of chaotic circumstances, Doug explains, but he'll be forever grateful that it happened. She'd been living at Fairview Lodge in Whitby when a fire struck in the fall of 2014. Residents were evacuated to long-term care homes throughout the region, including the Village of Taunton Mills. Grace went to live at Hillsdale Manor and Doug soon began the process of bringing her closer, knowing that in Durham Region there were many people in need of a safe and comfortable home – if Grace came to Guelph there'd be one more space for another displaced elder.
Things moved quickly and it wasn't long after his initial conversation with the Community Care Access Centre that Grace had a room at Riverside Glen. Almost instantly Doug went from making the five-hour round trip to visit his mother once a week to seeing her on his lunch hours.
It was clear from the instant Grace arrived at Riverside Glen that the hands that would care for her there were filled with kindness. Doug went to find a glass of water for her shortly after they arrived on move-in day and discovered that a friend from his high school days, Marlene Hayes, would be one of her direct caregivers.
"What more can you ask for, especially when it's a good and caring friend that you had lost touch with," Doug says, thinking of that early sense of ease he felt when he met Marlene. Many of the team members at the village soon became like long lost friends, and the ease of connections among the team and village residents filled Grace's time there with contentment.
"She would always tell me how much she liked it at Riverside," Doug says. "The whole thing just worked, and it was really a blessing to have Mom so close by with a team that made me comfortable for the last six months that she was with us."
Grace suffered a heart attack in late spring– the final complication in a string of heart troubles over the past 15 years. Her death was not unexpected, Doug says, but that certainly doesn't make the loss any easier to process. Looking back over the recent past, however, they spent Christmas, Easter and Mother's Day together. Grace was well cared for, even loved, at Riverside Glen, and the photo Doug donated reminds everyone in the village that it takes many hands to care for one another in this life.
"I would always hold my mom's hand, just to look and know that there's that contact," Doug says. "To me it's appropriate," he says, thinking of the photo and the team in the village. The loving hands of caregivers touch the lives of many, he says, and he and his family will be forever grateful the team at Riverside Glen touched theirs.
"They need to know that there are a bunch of people out there who are thankful and appreciative of all they do," Doug says. "They're not always vocal and I wanted to vocalize it."