Village competitions underway leading up to main events Aug. 16 and 18
By Kristian Partington
From Aug. 5-16, the world's finest athletes will converge under the gaze of Christ the Redeemer perched high atop the mountains over Rio de Janeiro for the 2016 Summer Olympics.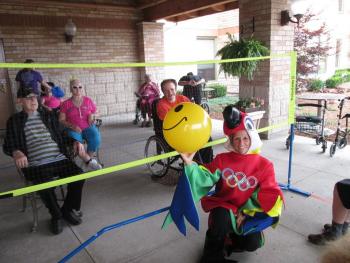 In honour of the XXXI Olympiad, Schlegel Villages is once again hosting its own version of Olympic competition, with residents in all villages competing for a spot in the main events to be held at the Villages of Sandalwood Park in Brampton Aug. 16 and Glendale Crossing in London Aug. 18.
Throughout the month of July, each village is getting into the spirit of friendly competition through seven events: ladder ball, NuStep cycling, team beach volleyball, equestrian/power wheelchair driving, village feud/trivia, arm wrestling for men and women, and biathlon with a basketball shooter and a speedy wheelchair propeller.
In the broad scope, the Schlegel Olympics, which have been previously held in the villages to coincide with the true summer and winter games, falls under the organizational quest to always celebrate the Wisdom of the Elder. The games – and other past events such as arts galas and cooking competitions – recognize that regardless of someone's ability and the fact they reside in a long-term care or retirement setting, their competitive nature still vibrates within and their past experiences and wisdom are worth celebrating.
The games within each village are a time of laughter, bonding, and relationship building as team members support competitors who are cheered on by their village neighbours.
"When team members and residents come together for friendly competition, it makes the playing ground even," says Melanie James, who has been part of the organization of similar events as a recreation director at Winston Park and now as the recreation consultant at support office overseeing all villages.
"There is no us and them, we are the same – competing in events, cheering each other on, eating an ice cream together. Residents are cheered for their abilities rather than worrying about what they cannot do anymore. It's a great feeling to be a part of."
That sense of togetherness spreads well beyond the villages as east and west converge for the main events later in August. This is an opportunity for team members and residents to show village pride while connecting with the broader Schlegel Villages family, all in the name of seeking the all-important bragging rights as a champion team. In that sense, the Schlegel Olympics have much in common with RIO 2016.