The sky clears over Downtown Toronto on June 1, just in time for residents from three Schlegel Villages to take their seats upon their green #ElderWisdom bench to kick off Senior's Month in Nathan Phillips Square. This is the first in a series of five events to take place throughout June, where community members are invited to engage with older adults and discover the wealth of knowledge, talent and experience they have to offer.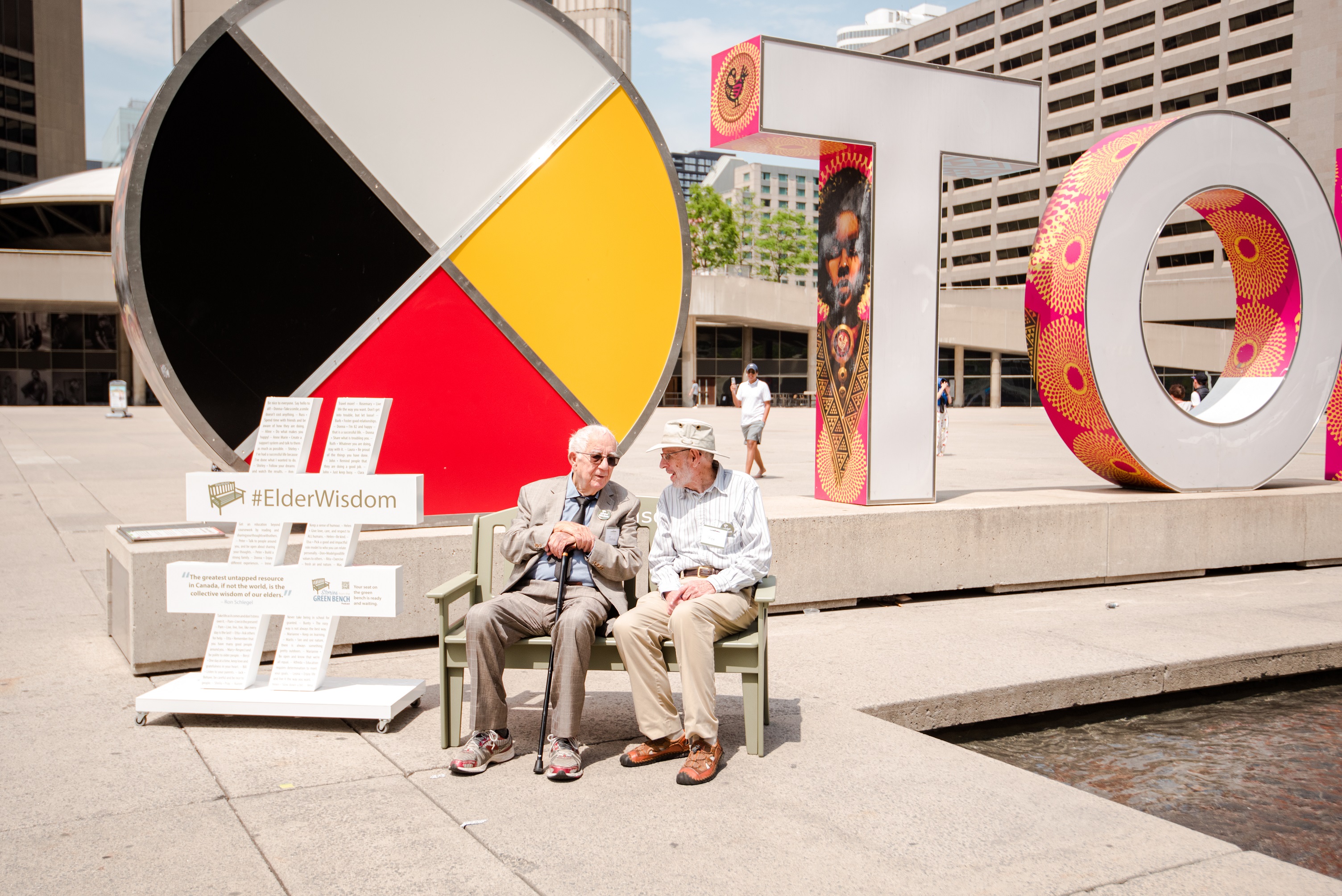 The campaign was first launched in 2016 based on the vision of Schlegel Villages founder Ron Schlegel, who once said: "the greatest untapped resource in Canada, if not the world, is the collective wisdom of our elders."
It seems that relatively few people in the midst of the busyness of life take the time to sit with their elders, however, which is what this campaign seeks to alter.
"It's sad to say but ageism seems to be the last acceptable form of prejudice in our society," says Ted Hudson, senior manager of digital marketing with Schlegel Villages and one the event's key organizers, "but when younger people get past the stereotypes that come with getting older and just sit and talk with an elder, those ageist barriers break down so easy. That's what makes the #ElderWisdom campaign so special and it's amazing to see the conversation spread."
Joshua Caminiti was among the elders in Toronto. To sit with him is to listen to more than 90 years of experience unfold from a man who really likes to share stories. He carries a bag with the renderings of buildings he designed and built as an engineer in the 60s and 70s – banks in Montreal and the Halifax Children's Hospital, for example.
He looks across Nathan Phillips Square to the beauty of Old City Hall with its immaculate, Romanesque stonework and high clock tower. "That was built when the tradesmen really knew their skill," he says in his soft Italian accent.
He has photos to share as well. There's one featuring him and his brother with a few other friends not long after they immigrated to Canada in the early 50s; another is a closeup of him and two Inuit hunters – a nod to a decade spent in Canada's far north helping build the Cold-War era North American defense system known as the Distant Early Warning (DEW) line. Another photo yet shows a smiling Joshua alongside a 600 lb tuna he caught of the coast of Nova Scotia that he says took several men nearly four hours to land, but he was the one that hooked it.
And Joshua is but one person with countless hints of wisdom and experience to share; imagine the wealth of it that exists in the millions of elders the world over.
"One of the most exciting things about the #ElderWisdom campaign and the green bench is, it's an invitation to have a conversation," says Donna Duncan, CEO of the Ontario Long-Term Care Association as she took some time to chat upon the benches. "It's about people, it's about relationships.
"We've been behind masks for the past two-and-a-half years," she continues. "I think people want human contact and they want to share and they want to learn and there's so much history and so much experience to be shared."
The opportunity to sit with older adults for a little while during this specific campaign reminds us all of the value to be found in such depth of experience, and encourages people to see past the stereotypical views that follow aging to see that, in the minds and hearts of seniors, much remains on offer.
The schedule of everts through June is as follows. Hope to see you on the bench!
June 8: Hamilton, Hamilton Waterfront Trust- Pier. 12-3 pm; 47 Discovery Drive, Hamilton, ON
June 15: London, Convent Garden Market. 12-3 pm; 130 King St. London, ON
June 22, Mississauga, Celebration Square. 12-3 pm; 300 City Centre Dr. Mississauga, ON
June 29, Kitchener, Carl Zehr Square. 12-3 pm; 200 King St. West. Kitchener, ON
Click here for more information in an #ElderWisdom toolkit.