Apr 11, 2019 / Village Voice
Posted by: Kristian Partington
On a Wednesday morning in early April, two volunteers join a few of the residents who form the Humber Heights knitting club around the table in the Community Centre. Irene Fair is one of them. She's been away for a few weeks recovering from knee surgery, but this morning felt strong enough to join the group again – she missed everyone, after all. Irene always bakes for the knitting circle and despite the recuperating knee, a container of freshly baked muffins are eagerly passed around as the small group settles in.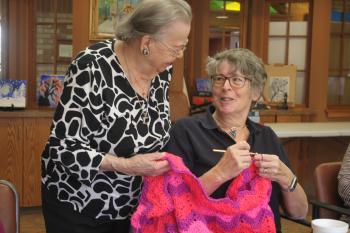 Maria and Irene of the Humber Heights Knitting Club.
Irene's mother used to live in the village and together they attended the earliest days of the knitting club, happy to be part of the social fabric of ladies who gather once a week to share stories of their families and lives over the clicking of knitting needles. Her mother passed in 2015, but Irene remains part of the community. In fact, she's been part of it for decades; she and her six younger siblings, it turns out, attended the old school that was preserved and transformed into Humber Heights in 2005. A class from 1961 featuring Irene's sister adorns the history wall just across Town Square from the community centre.  
Down the table from Irene is Stephanie Thomas, who retired from Humber Heights as a personal support worker two years before. She still comes nearly every day to help residents in Emma's neighbourhood with lunch, and on Wednesday mornings she's happy to join the knitting group to work on gifts for her grandchildren and great grandchild. Upstairs in Emma's the team and residents are grateful for the time she offers, for she helps the midday meal go by smoothly with her extra hands and broad smile.
The knitting group itself is a lovely example of volunteerism at work; some of the ladies are happy to knit gifts for loved ones while others choose to offer their gifts elsewhere. Annie's name comes up as an example. Annie isn't here this Wednesday morning, but her friends describe how she has created countless knitted hats for newborn babies at Humber River Hospital. Every time she has a batch of 75 or so, Annie will be off on her motorized scooter to deliver them.

Stephanie (right) may have retired two years ago, but she
still comes daily to help out in the Emma's dining room.
Others work to create items to sell at the annual Christmas bazaar and are proud of the fact that the money they raise is used to help struggling families and provide meals for people living at a local homeless shelter. 
Joyce, Ida, Suzie and Maria are here today, enjoying their time with Stephanie and Irene as they do weekly. Appreciation for the time a small army of kind volunteers spends in every Schlegel Village knows no bounds, but for one week in early April it comes to light. National Volunteer Week is a time to share gratitude and let volunteers know how wonderful it is to have their presence in the Village communities, and consider how selfless acts large and small make these communities stronger.