'We cannot afford for leaders that are aligned with our culture to leave'
Schlegel Villages is undergoing a rapid period of growth and one of the key priorities in the growth development plan is to preserve the unique, family culture that defines the organization in the eyes of many. In order to do this, the defined goal is to fill seven out of every 10 new leadership positions opening up in the coming years internally.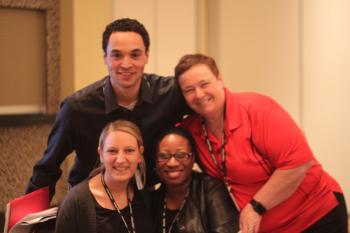 "This is one of the most critical ways that we will preserve our culture," said Rose Lamb, vice-president of operations during a session at this year's Leadership Retreat. "If we don't hire people aligned and like-minded into roles that come up and we don't develop and exceed that 70 per cent from within, we will erode our culture."
Rose herself grew within the organization, moving from a general manager position to her current role supporting the eastern half of 19 villages. Someone identified potential in her and likewise, she encourages all current leaders to watch for potential in those they support and all team members to consider where they see themselves in the future.
Alisa Anguine was one of three panelists to share their growth development paths during the session, with her story outlining just how important it is to identify the right person for the right role.
Currently a charge nurse at Etobicoke's Village of Humber Heights, Alisa has held a number of different positions, mostly at The Village of Erin Meadows in Mississauga in some aspect of nursing. Alisa always loved the clinical side of her work as a nurse, she explained, and having the opportunity to try several different roles, such as assistant director of nursing care or temporary neighbourhood coordinator, helped her realize working directly with residents made her most happy.
Every leader she worked with, however, could picture her as a director of nursing care and in late 2015 she had the opportunity to fill that role at Erin Meadows, realizing not long after that it was not something she was passionate about.
"It was always something I shied away from, but I was happy to be able to try it," Alisa said, before reflecting back on conversations she'd had with general manager Anneliese Krueger, who would ask: "if you had your dream job, what would it be?"
"It was always clinical," Alisa would reply, "back to the core of nursing."
When she realized the director role wasn't a fit, she once again sat down with Anneliese and the dream job question arose again. Alisa, with great confidence, suggested her ideal role would be a "floating charge nurse," able to support teams and residents in more than one neighbourhood or village. Such an opportunity arose at Humber Heights not long after, though it may not have had the conversation not happened or Anneliese and fellow leaders not identified Alisa's dedication to the organization.
As Rose later explained, leadership team members actively sought a new role for Alisa, fearing that if she remained dissatisfied, she might leave. "We cannot afford for leaders that are aligned with our culture and are passionate about what we believe is good care to leave," Rose said. 
Among a list of several traits leaders can look for in their team member when assessing potential for advancement, Alisa believes "cultural fit" describes her best.
"I believe in everything within this organization," Alisa said, "and I've been through a lot of the dreaming that supports our mission, vision and values, that support servant leadership, and I feel I'm able to apply that in a tangible way in whatever role I play within the organization."
As the organization continues to grow, these are the people who will lead, and all team members and leaders should keep this in mind in all aspects of their time in village life.