The loss of her wedding ring was devastating to no end
By Kristian Partington
One of the most tragic ramifications of a catastrophic fall Ilse Snaith suffered in her home nearly two years ago was the loss of her wedding ring – the greatest reminder she possessed of the man she spent her life with. Cancer took him not long before she was rushed to the hospital that day, where the ring was removed from her finger for safe keeping while the medical team began their fight to help Ilse begin her recovery.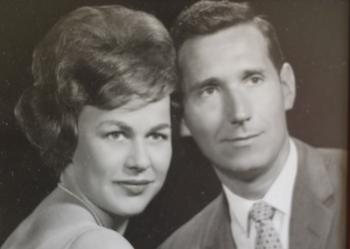 It was never to be seen again, she feared. It had been stolen by an unscrupulous hospital employee who preyed upon those in a state of weakness.  Two other patients in the hospital had lost their rings, as well, Ilse had heard, and the loss of hers compounded an already difficult situation.
"It was devastating to no end," she says. She and Peter had been married for nearly 60 years. They first met in his Toronto shop, long before the city swallowed the countryside around it, and they lived a long and happy life together until sickness took him from all but her memories.
She eventually moved from the hospital to the Village of Riverside Glen, where she's found comfort in new friendships with fellow residents and the team members who support her. And yet, her grief remains and sadness would creep into her world again when she thought of her lost ring.
Ilse explains that during the village's East Coast Summer Courtyard party at the end of July, her caregiver from outside the village came to visit.
"She came to me," Ilse recalls. "She said 'close your eyes and hold out your hand' and I did, and she put the ring in my hand."
It had been placed in a drawer, the story goes, alongside those belonging to the other two patients. Their names were all attached but their location was forgotten. A ring, after all, is an easy item to misplace; a sheet of paper can bury it once and then others on top for all. Time goes by.
"That was so exciting, I can tell you," Ilse recalls of the moment she realized the gift placed in her hand that night held the promise of her Peter's undying love. Joy still rings in her voice. "I couldn't stop crying because that's the memory. It was more than a year that I haven't seen it and I never thought I would get it back."
"I had that ring since 1959."
Losing it was heartbreak upon heartbreak and to have it returned was a light of positivity. Her fellow residents would later tell general manager Bryce McBain "that in the day to day of common news of world tragedy, it was so nice to hear this story of a life's small win."