Sep 29, 2022 / Village Voice
Posted by: Kristian Partington
Mike Sharratt was many things in life: a student, professor, mentor and friend. He was a family man who cared deeply for his wife and three sons, but he was also a guide for so many others, always pushing people to understand the importance of daily physical activity for people of all ages. He was also a sucker for a Boston Cream doughnut once in a while.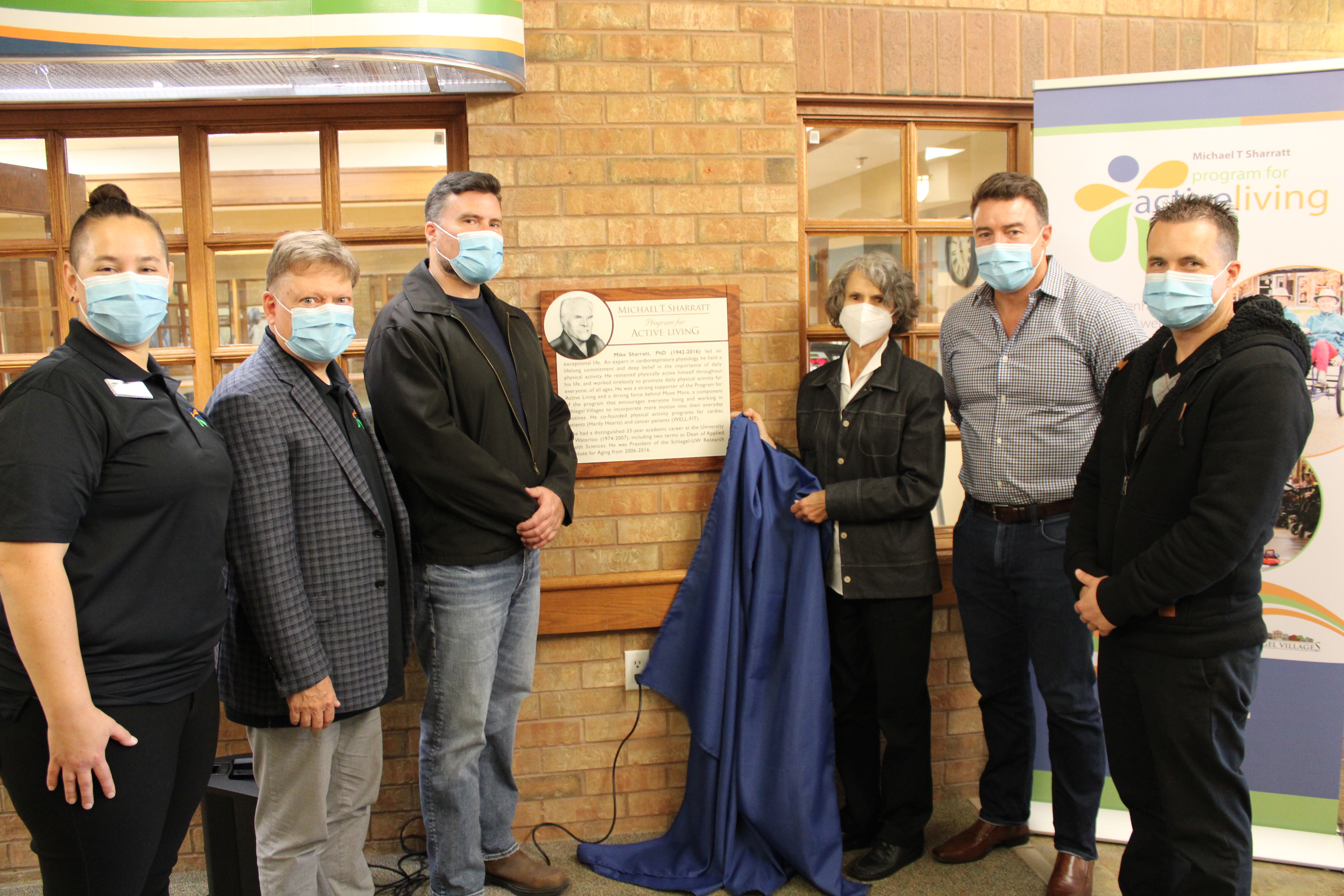 Family and friends gathered at The Village of Winston Park on a late September morning to honour the impact Mike had on the lives of many as a key driving force behind Schlegel Villages's unique, Program for Active Living. The program's roots go back to Winston Park, where it was first launched as the Functional Abilities Program and where key researchers with the University of Waterloo's Department of Kinesiology collected data to support the simple belief that increasing upper body strength among older adults living in long-term care settings could help reduce the risk of falls.
Mike was a champion of this program from its inception through the early conversation he had with his close friend, Schlegel Villages founder Ron Schlegel. The belief that research and innovation are critical elements in the betterment of the lives of seniors has always been at the core of Ron's personal philosophy, and the Functional Abilities Program was the first of its kind to bring this belief to life. Indeed, the program's success at Winston Park was a strong catalyst for the creation of the Schlegel-UW Research Institute for Aging when it opened in 2005 with Mike at the helm as president.
One of Mike's key ambitions was to spread the Program for Active Living (PAL), as it would become known, to every Schlegel Village while inspiring older adults everywhere to maintain an active lifestyle, says Josie d'Avernas, who stepped in to lead the RIA after illness forced Mike to retire in early 2016. He wanted to increase the program's profile and the research around it so it could continue to grow to be a world-renowned evidence-informed, program to improve the lives of older adults.
Mike passed away in December of 2016 and his memory is held close by all who knew him. It is fitting that the program he championed for the last 20 years of his life has been renamed The Michael T. Sharratt Program for Active Living, and a plaque honouring his inspiring legacy now adorns the wall outside every Village's fitness centre.
"This work that Mike led will live on for decades in programs like the Michael T. Sharratt Program for Active Living," Josie says. "This signature program brings together Mike's multiple passions for research, physical activity, education and healthy aging."
Click here for a story about the impact of the Michael T. Sharratt Program for Active Living on the lives of Schlegel Villages residents, and learn more about the program here.