Jul 04, 2019 / Village Voice
Posted by: Kristian Partington
A culture of innovation thrives within Schlegel Villages and its many valued partnerships – a culture that was once again showcased when villagers, RIA researchers and community partners gathered for the 5th annual Innovation Summit in mid-June. 
Hosted by The Schlegel-UW Research Institute for Aging (RIA) and Schlegel Villages, the annual event not only provides space to share innovative ideas in the field of healthy aging; it also inspires attendees to consider new ideas to enhance the lives of older adults.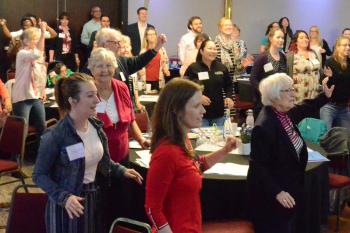 The annual Innovation Summit draws villagers of all stripes
together to share ideas and look to the future of healthy aging. 
Schlegel Villages' chief operating officer Paul Brown says the summit both represents and honours the unique relationship between the Villages and the RIA, which is a global leader in the field of aging research.
"The value of innovation is rooted in our DNA," Paul says. "It's how we act, how we behave and it's a part of who we are and how we live and exist, no matter which role we have in Village life."
At this summit, world-class research chairs sit alongside personal support workers, nurses and residents in the true spirit of collaboration, and they learn much from each other. The collaborative spirit goes far beyond this summit, however, extending into daily life, both in Waterloo where the RIA's home base is literally connected to The Village at University Gates and in all Villages that regularly support research initiatives.
The partnership, says RIA executive director Josie d'Avernas, is very deliberate "so that this magic can happen where researchers, students, family members, residents and team members all interact with each other so that we are influencing the research questions that are being asked, the research that is being done and the integration of that research into practice."
The two-day innovation summit is an opportunity to celebrate the unique infrastructure that makes such collaboration possible, Josie adds, while recognizing how everyone connected to Village life and the RIA nurtures a collective global reputation for excellence in aging research.
Nora Groves says it was an honour to participate in this year's summit. As an active resident of the Village of Tansley Woods, Nora brings 96 years of experience to the Village, and she's happy to contribute her insights if it helps researchers steer their efforts effectively. Her voice was heard during a session on nutrition, for example, encouraging RIA research chair Heather Keller to remember the absolute importance of food's appearance in creating nutrient-dense recipes for long-term care residents.
Nora and the several other residents who attended over the two days are perhaps the greatest sign of commitment to true collaboration in aging innovation, for their insights are of great value to all.
"I was a bit overwhelmed by the scope and the size of the group," Nora admits, "but it was amazing and I wouldn't have missed it for the world. I was impressed with the fact that so many people would take the time to get involved in the cause of seniors."
The population of older adults in her peer group is only growing, Nora adds, and their needs are growing ever more complex, which is why innovation is of such importance today. Their voices must always be part of the conversation, she says.